Pence Casts China as Republican Campaign Foe in Harsh Speech
(Bloomberg) -- Vice President Mike Pence laid out allegations of Chinese election interference in a harshly worded speech Thursday, signaling a firmer U.S. pushback against Beijing as trade anxiety weighs on the looming midterm congressional elections.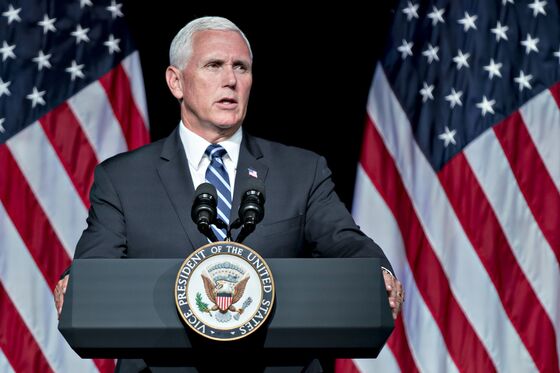 Pence accused China of "a whole-of-government approach" to sway American public opinion, including spies, tariffs, coercive measures and a propaganda campaign. The speech at the Hudson Institute in Washington represented some of the most critical remarks about China by such a high-ranking U.S. official in recent memory.
"There can be no doubt," he said, "China is meddling in America's democracy."
"Beijing has mobilized covert actors, front groups, and propaganda outlets to shift Americans' perception of Chinese policy," Pence said. "As a senior career member of our intelligence community recently told me, what the Russians are doing pales in comparison to what China is doing across this country."
Chinese Foreign Ministry spokeswoman Hua Chunying said that Pence made "unwarranted accusations" and "slandered China." "This is nothing but speaking on hearsay evidence, confusing right and wrong and creating something out of thin air," she said in a statement posted Friday on the ministry's website.
Pence's speech is the latest sign of deteriorating ties between the U.S. and China, as the two nuclear powers tussle over everything from trade to Taiwan and the South China Sea. The disputes have fueled concern in Beijing and Washington that U.S. President Donald Trump's trade fight could, if left unchecked, foster a new Cold War between the world's two biggest economies.
Pence said China's goal was "nothing less than to push the United States of America from the Western Pacific and attempt to prevent us from coming to the aid of our allies."
He called on Alphabet Inc.'s Google to cancel its "Dragonfly" project, a search engine for Chinese consumers that would filter out results objectionable to the government. The app would "strengthen the Communist Party's censorship and compromise the privacy of Chinese customers," Pence said.
Pence spoke days after Trump himself accused China of attempting to meddle in the 2018 midterm elections, citing an advertisement the Chinese government took out in an Iowa newspaper attacking the president's trade policies. The claims underscore administration concern that anxiety over the trade battle could hurt Republicans in the Nov. 6 vote.
"Going into elections, Trump has got to look like a strong leader and it helps to have an enemy abroad -- this is a truism of international relations," said Rosita Dellios, an associate international relations professor at Bond University in Gold Coast, Australia. "China would be ill-advised not to pursue some level of influence through the media and other sources. But that's normal. The Americans do it. The Russians do it."
While China does maintain global efforts to influence overseas Chinese and has been accused of several high-profile cyber raids on American computer systems, there has so far been no public evidence of the sort of influence operations the U.S. has said Russia carried out in 2016. China's strategic tariffs have been interpreted as an effort to support congressional opposition to Trump's trade policies.
U.S. Department of Homeland Security Secretary Kirstjen Nielsen said in a tweet that the Chinese hadn't attempted to interfere in "election infrastructure."
Trump appears to be gearing up for a protracted trade war, declaring earlier this week that "it's too early to talk" with China. "Can't talk now, because they're not ready," Trump said on Monday after announcing a new trade pact with Canada and Mexico at the White House.
China has responded to Trump's decision to levy tariffs on $250 billion of its exports with its own tariffs on U.S. goods, including soybeans and other agricultural products. Pence singled out those retaliatory tariffs in his speech on Thursday.
The Chinese tariffs "specifically targeted industries and states that would play an important role in the 2018 election," he said. "China wants to turn these voters against our administration."
Pence also assailed China over its actions in the South China Sea, where the U.S. has criticized the Chinese government for building military bases on reclaimed reefs.
Earlier this week, the U.S. accused China's navy of "unsafe and unprofessional" conduct near an occupied reef in the South China Sea after a Chinese destroyer maneuvered close to the bow of an American warship attempting to assert navigation rights. China accused the U.S. of violating its "indisputable sovereignty."
"Despite such reckless harassment, the United States Navy will continue to fly, sail and operate wherever international law allows and our national interests demand," Pence said. "We will not be intimidated, and we will not stand down."
The U.S. Pacific Fleet is drafting plans for a global show of force to warn China and demonstrate resolve to deter Beijing's military actions, CNN reported Thursday, citing several unidentified U.S. defense officials.
Pence also weighed in on Beijing's effort to diplomatically isolate Taiwan's China-skeptic president, Tsai Ing-wen. The democratically governed island, which China considers part of its own territory, has seen Beijing lure away several of its diplomatic partners in recent months.
"While our administration will continue to respect our One-China Policy, as reflected in the three joint communiques and the Taiwan Relations Act, America will always believe that Taiwan's embrace of democracy shows a better path for all the Chinese people," Pence said.
Hua, the foreign ministry spokeswoman, responded: "The history and facts have proven that this is a successful path which suits China's national conditions and can lead to national prosperity and people's happiness."