Pence Stands Behind Trump and His Record in Early 2024 Speech
(Bloomberg) -- Former Vice President Mike Pence embraced Donald Trump's presidency in what amounted to an early 2024 campaign speech Thursday to South Carolina Christian conservatives, just four months after he fled a mob trying to stop him from finalizing President Joe Biden's electoral victory.
Pence celebrated what he described as the Trump administration's accomplishments in a speech that previewed his potential run for the Republican nomination. He and other possible candidates, such as former United Nations Ambassador Nikki Haley and former Secretary of State Michael Pompeo already making the rounds of early primary and caucus states.
Yet their ambitions and tentative efforts to assess their presidential chances have been complicated and overshadowed by the former president, who dangles the possibility that he might run again and said earlier Thursday that he was "100%" considering another campaign.
Trump and Pence publicly split over the Jan. 6 riot at the U.S. Capitol, which was inspired by Trump's false claims that the 2020 election had been rigged. Pence refused to reject legally certified Electoral College votes for Biden as Trump demanded at a rally near the White House before the assault.
As the mob broke into the Capitol and erected gallows bearing his name on the grounds, Pence's security detail rushed him and his family to safety.
But there seemed to be no daylight between the two men in Pence's speech on Thursday, or any indication that he would run as an establishment antithesis to the freewheeling former president.
Speaking at an event for the Palmetto Family Council, a conservative group, he contrasted his four years in office with Trump with the first 100 days of the Biden administration that he said has "launched an avalanche of liberal policies."
"Had enough? I have," Pence said. "In 2020, the American people did not vote for that agenda. They did not vote for the agenda of the radical left, and the time has come for freedom-loving Americans to stand up to the far-left agenda of the Biden-Harris administration and say, 'Enough is enough.'"
The former vice president, who led the Trump administration's coronavirus task force, toured the Edward Via College of Osteopathic Medicine in Spartanburg, met privately with pastors in Columbia before addressing a crowd of some 400 at the Palmetto Family Council gala.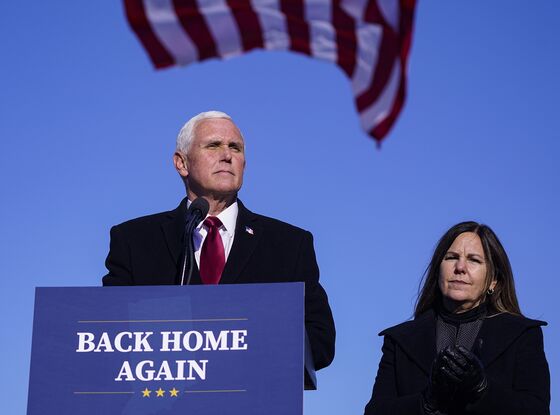 He has maintained a low profile since leaving office, and had kept his distance from his former boss. He declined to appear with Trump and other prominent Republicans in February at the annual Conservative Political Action Conference in Florida.
Carl Broggi, pastor at Community Bible Church in Beaufort, said Pence told an earlier gathering of pastors that he and Trump had spoken often since leaving office.
The former president has continued to criticize Pence for refusing to reject the election results. But Pence is forging ahead with a vigorous defense of Trump and their administration's record, casting himself as the most Christian conservative candidate with an agenda that can return Republicans to power.
"Men and women, we have the winning agenda, and now it's incumbent upon us to take that winning agenda to the American people," Pence said.
Broggi said he doubts Pence would run in 2024 if Trump decides to jump back in. "He has the president's back," Broggi said.
The South Carolina events will kick off a more public schedule for Pence, with one or more trips a week to support Republican candidates running in next year's midterm elections and to promote his conservative agenda, according to a person familiar with Pence's plans.
He has joined the Heritage Foundation, a GOP establishment think tank, as a distinguished visiting fellow, started an advocacy group, Advancing American Freedom, to promote his agenda and defend the Trump administration's record, and he's publishing two books, with the first expected to be released in 2023.
Despite Pence's fealty to his former boss, Trump also said on Fox Business that if he became a candidate, he'd consider Florida Governor Ron DeSantis as his running mate -- seemingly rejecting the idea he'd necessarily run again with Pence. DeSantis is also considering his own 2024 run.
"He's currently occupying this political purgatory," said Kevin Madden, a senior adviser to Mitt Romney's 2012 presidential campaign, said of Pence. "He's basically in position of just waiting for Donald Trump."