Pence Says More Than 100,000 Americans Tested Daily for Virus
(Bloomberg) -- Vice President Mike Pence said more than 100,000 Americans are now being tested daily for coronavirus, as the government tries to ramp up its lagging response to tracking the outbreak.
"We literally are tracking every single day the number of cases, where they're coming out," Pence said Thursday in an interview with Bloomberg Television.
The availability and speed of testing across the U.S. has increased in recent days, but medical professionals across the country have warned that they aren't able to test all patients who could have the coronavirus. That's hampering efforts to prevent the disease from spreading into parts of the country that are relatively untouched.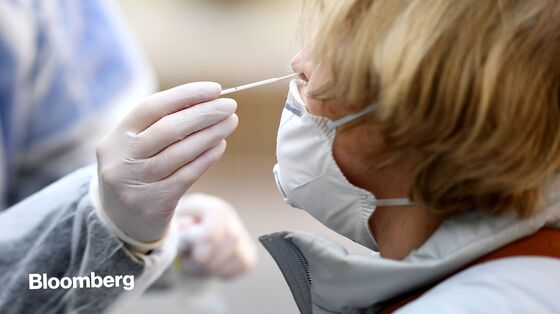 Pence pointed to Abbott Laboratories Inc., saying a weekend breakthrough on point-of-care testing will make an additional 50,000 tests available each day.
U.S. testing for the virus was delayed because the Centers for Disease Control and Prevention was slow to manufacture and distribute a reliable test kit. That's prompted governors across the country to warn that they don't have the information to track the full scope of coronavirus infections.
Anthony Fauci, the government's top infectious disease expert, told a New York Times podcast on Thursday that he saw testing as a problem from "early on" in the crisis. He said it was "unfortunate" that the government had to work to ramp up testing by the private sector in addition to the diagnostics run by CDC labs.
President Donald Trump has said he's proud of the country's testing system, saying that with more than 1 million completed, the U.S. has conducted more tests than publicly reported by any other country. Critics have noted the country still lags behind other nations on a per capita basis.
There have been about 1.2 million coronavirus tests performed in the U.S. as of noon Thursday, according to the Covid 19 Tracking Project, which tracks data supplied by states.