Turkey, U.S. Agree on Cease-Fire to End Feud: Syria Update
(Bloomberg) -- U.S. Vice President Mike Pence said he reached an agreement with President Recep Tayyip Erdogan on a 120 hour cease-fire in Turkey's military operation in Syria, allowing Kurdish militants to leave parts of the northeast.
Once Kurdish forces complete their evacuation, Turkey's cross-border operation in Syria will come to a complete end, Pence said on Thursday.
President Donald Trump's decision to withdraw U.S. troops and stand aside when Turkey advanced into Syria has prompted widespread criticism, even from some of his staunchest defenders in Congress. The White House has since sought to limit the damage by imposing sanctions on Turkish officials and dispatching Pence, along with U.S. Secretary of State Michael Pompeo, to the region to push for an immediate cease-fire.

Erdogan said Wednesday that Ankara's military operation in Syria could end after Kurdish fighters, who fought for years with the U.S. to defeat Islamic State, leave a strip of territory in northeast Syria, where they have set up an autonomous administration.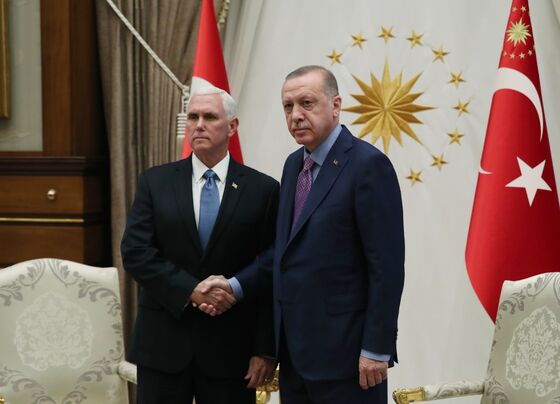 Here is a rundown of major events in Turkish local time:
Pence, Erdogan reach deal in Ankara
Trump faces Congressional rebuke for Syria pullout
Assad's forces take strategic border town of Kobani
Russian forces patrol areas of northeast Syria after U.S. forces leave
Trump-Erdogan call led to a lengthy quest to avoid Halkbank trial
Turkey Agrees to 120-Hour Cease-Fire in Syria, Pence Says (8:40 p.m.)
Pence said the U.S. and Turkey have agreed to end hostilities in Syria.
Turkey would cease operations permanently once the Kurdish forces withdraw and work on detention centers in the affected areas would be coordinated with Turkey, Pence said.
Once a permanent cessation of hostilities is in place, the U.S. will lift all sanctions slapped on Turkey earlier, Pence said.
Pence, Erdogan Talks End after More Than Four Hours (7:55 p.m.)
Talks held between Erdogan, Pence and their delegations including Secretary of State Pompeo ended after more than four hours. The American delegation is expected to hold a joint press conference at the residence of the U.S. Ambassador.
Graham's Turkey Sanctions Bill Includes Ban on Sovereign Debt (7:50 p.m.)
Republican Senator Lindsey Graham is proposing a prohibition on U.S. persons from buying Turkey's sovereign debt in response to its actions in northern Syria, according to the framework of the sanctions bill.
The same version of the bill would have to pass the House and the Senate before going to Trump to be signed into law. There is strong bipartisan opposition to Turkey's offensive, but Senate leaders haven't committed to bringing the bill to a vote.
Pence Meeting With Erdogan Lasted About 80 Minutes, Longer Than Planned (5:32 p.m.)
The meeting lasted longer than planned (10-to-15 minutes) at the insistence of the Turkish side, according to a U.S. official.
The two leaders are now holding an expanded bilateral meeting.
Trump's Oct. 9 Letter to Erdogan Irrelevant; Turkey Moved On: Presidential Aide (4:16 p.m.)
"It was an old, leaked letter that wasn't taken seriously at the time, especially given its lack of diplomatic finesse. And the response to that letter was the start of the operation" into Syria, Erdogan's aide, Gulnur Aybet, told NPR in an interview. "We've really moved on considerably since this letter was sent. It's absolutely irrelevant."
Pence, Erdogan Meeting Begins (3:30 p.m.)
The one-on-one meeting begins at Erdogan's office. Photos disseminated by the Turkish presidency show the two leaders looking extremely serious as they shake hands.
Pence Lands in Turkey's Capital, Ankara (1:14 p.m.)
Pence arrived in Ankara, where he will pressure Erdogan to call a cease-fire in northern Syria, a demand the Turkish leader publicly rejected ahead of the visit.
The hastily arranged trip came at the direction of Trump, who spoke earlier this week with Erdogan. Pompeo, National Security Adviser Robert O'Brien and Syria envoy James Jeffrey have all traveled to the country for high-level talks.
Trump's Letter to Erdogan Is 'Quite Unusual,' Kremlin Says (12:57 p.m.)
Kremlin spokesman Dmitry Peskov called the letter "quite unusual," saying, "you don't often come across such language in the correspondence of heads of state."
Vladimir Putin, who's cemented his power-broker role in Syria since Trump opened the way to the Turkish operation, will host Erdogan in Sochi, Russia on Tuesday to discuss the crisis, following a phone conversation earlier this week.
Merkel Urges End to Offensive That "Strengthens Russia's Position" (10:48 a.m.)
In a speech to lawmakers in Germany's Bundestag, Chancellor Angela Merkel repeated her plea to Erdogan to end the military incursion into Syria, an "already devastated country." Germany will join EU member states in halting weapons exports to Turkey.
"In geopolitical terms, this massively strengthens Russia's position in the region, together with Iran" with U.S. troops withdrawn," Merkel said early Thursday. "The consequences are at this moment not foreseeable."
Lira Steadies Before Erdogan Meets Pence on Syria (08:27 a.m.)
The Turkish lira remained near its weakest level in almost five months before Erdogan meets Pence and Pompeo in Ankara later Thursday.
The lira was trading at ~5.88 per dollar.
One-year dollar-lira swaps -1bps to 16.69% after jumping more than 60bps on Wednesday
Five-year CDS closed above 400bps on Wednesday, nearing a one-month high touched earlier this week
Pelosi Cites Trump 'Meltdown' as Republicans Blasts Syria Reversal (02:47 a.m.)
A White House meeting between Donald Trump and congressional leaders to contain fallout from the Syria crisis broke down abruptly Wednesday, with the president hurling insults at House Speaker Nancy Pelosi, who accused him of having a "meltdown."
Pelosi said Trump appeared to be "shaken" after 129 Republican lawmakers backed a resolution rebuking him for withdrawing U.S. forces from Syria. Senate Democratic leader Chuck Schumer said Trump's insults of Pelosi during a "nasty diatribe" prompted Democratic leaders to leave.
Trump Warns Erdogan: Don't Be 'Tough Guy' or 'Fool' (11:43 p.m.)
Trump wrote a letter to Erdogan calling on him to "work out a good deal!" and warning him not to be a "tough guy" or "fool."
"History will look upon you favorably if you get this done the right and humane way," according to the Oct. 9 letter, reported earlier by Fox Business Network and confirmed by the White House. "It will look upon you forever as the devil if good things don't happen."
UN Security Council Expresses Concern Over IS (10:30 p.m.)
The United Nations Security Council, deeply divided over Syria since civil war broke out in 2011, issued a statement Wednesday expressing "deep concern" over the risk of the dispersion of terrorists from groups including Islamic State and "over the risk of a further deterioration of the humanitarian situation."
Syrian Military Forces Enter Key Town of Kobani (8:42 p.m.)
Syrian government forces entered the strategic border town of Kobani Wednesday night, the U.K.-based Syrian Observatory for Human Rights reported, as part of a deal with Kurdish fighters to fend off Turkey's offensive on the border. Syrian troops also expanded their deployment in the northeastern province of Raqqa earlier in the day, state-run Sana news agency said, showing images of troops carrying their national flag and pictures of Assad as they made their way into the area. Kobani carries a particular symbolic resonance as Kurdish forces backed by U.S. air power ended Islamic State's hold over the town and its environs in a grueling months-long battle in 2014-2015 that was widely seen as a turning point in the war against the jihadist group.