Pence Chides Myanmar's Suu Kyi on Human Rights in Tense Meeting
(Bloomberg) -- Vice President Mike Pence told Myanmar's Aung San Suu Kyi that the U.S. had concerns about human rights abuses in the Southeast Asian nation, saying there was no excuse for the violent crackdown on its minority Rohingya Muslim population.
"This is a tragedy that has touched the hearts of millions of Americans," Pence told Suu Kyi in a tense exchange Wednesday on the sidelines of Association of Southeast Asian Nations meetings in Singapore.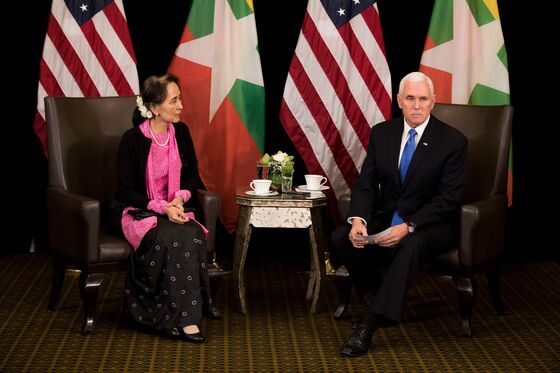 "The violence and persecution by military and vigilantes that resulted in driving 700,000 Rohingya to Bangladesh is without excuse," Pence continued. "I'm anxious to hear about the progress that you're making in holding those accountable who are responsible for the violence that displaced so many hundreds of thousands and created such suffering, including the loss of life."
In response, Suu Kyi -- the country's de facto leader who officially holds the title of state counselor -- deflected the criticism.
"We can say we understand our country better than any other country does," she told Pence. "I'm sure you understand your country better than anybody else."
Pence is the highest-ranking U.S. official to meet with Suu Kyi since the United Nations found that Myanmar security forces had systematically murdered, tortured, raped and enslaved civilian members of the minority. The crackdown has led to global criticism of the Myanmar leader, a Nobel Peace Prize winner who was held under house arrest for more than a decade before her release and election victory in 2015.
Pence also said he was troubled by Myanmar's arrest and prosecution of two Reuters journalists who had been covering the attacks.
"The arrest and jailing of two journalists last fall was deeply troubling," he said. "I look forward to speaking to you about the premium that we place on freedom of the press."