Pence, CDC Head Lay Out Virus Criteria to Reopen U.S. Economy
(Bloomberg) -- Vice President Mike Pence and one of the top U.S. health officials said reopening the country's economy hinges on the government seeing major communities at the end of their coronavirus outbreaks and developing treatments for the disease, among other hurdles.
"Let's be clear: Reopening the country, as the president is very anxious to do at the earliest responsible moment, will be through a combination of facts," Pence said Thursday evening at a White House briefing.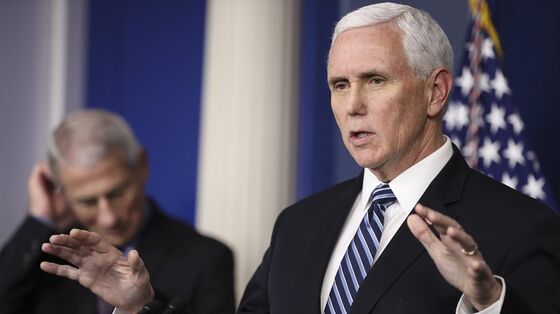 Most major communities must be "at the end" of their outbreaks, said Pence, who leads the White House's coronavirus task force. The country also should have widespread testing available, therapeutics for Americans who contract the disease, and guidance from the Centers for Disease Control and Prevention on how large and small businesses can operate safely.
The comments were among the most detailed yet from the administration about its parameters for urging citizens back to work. The U.S. continues to lead the world in cases, but has begun to see caseloads level off in the worst hotspots, while other communities are just at the start of their outbreaks.
CDC Director Robert Redfield outlined similar criteria on Thursday during an interview with CNN. Officials, he said, need to understand the spread of the virus, strengthen public health infrastructure, prepare hospitals and other medical facilities, and foster a belief among Americans that it's the right time to do this.
"Those are really the four most critical elements that we're working and planning on now, with the anticipation of beginning to reopen our nation one region at a time and get us all back to work and get prepared for next year, which will be another challenging time," he said.
Redfield expects next year to be more bearable, if the outbreak can be beaten back to a scale that can be handed by case identification, isolation and contact tracing. "So we don't have to go through the serious mitigation steps that we're taking to get this under control today," he said.
Pence said he expects the U.S. to have so-called surveillance testing, which can identify people who may have already had coronavirus and may be immune, in place as soon as the summer.
President Donald Trump is eager to jump start the U.S. economy, which has been hobbled by the pandemic as he ramps up his re-election campaign. Another 6.61 million people applied for unemployment benefits last week, bringing the three-week total to about 16.8 million during the economic shutdown to fight the outbreak.
The White House is weighing whether to create a new working group to focus on reviving the U.S. economy after the pandemic eases.
The administration's top infectious disease expert, Anthony Fauci, said at the same briefing Thursday that "there's no one medical criteria" that will determine when the country is ready to reopen.
"We have a very large country with really different patterns of disease and outbreaks in different parts of the country, so it's not going to be a one-size-fits-all," Fauci said.
Redfield warned that cities like Philadelphia, Baltimore and Washington are still seeing increases in cases.
"We need to understand the extent of the transmission of the virus, and it's going to be very different in different parts of the nation," he told CNN. "So it's not going to be one-size-fits-all. It's going to be using the data that we have from surveillance to really understand where it is, the most important places for us to begin to reopen."