Pelosi Plans Vote to Condemn Trump for Tweets Attacking Congresswomen
(Bloomberg) -- Speaker Nancy Pelosi said Monday the House will vote on a resolution condemning President Donald Trump for his attacks on four female Democratic lawmakers, as a handful of GOP lawmakers joined in the denunciations of his statements.
Trump's call for New York Representative Alexandria Ocasio-Cortez and three of her allies to "go back" to where they came from was labeled racist by Democrats as well as a few Republicans.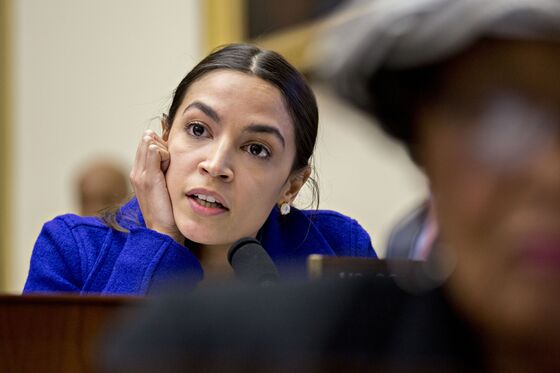 The president, asked by reporters at the White House whether he was concerned that white nationalists are backing his remarks, said, "It doesn't concern me because many people agree with me."
Pelosi said the House resolution will be offered by a group of Democrats who were born abroad, and she called for Democrats and Republicans alike to support it.
"I reject the president's xenophobic comments meant to divide our nation," Pelosi said in a letter to colleagues.
Republican leaders in Congress so far haven't weighed in. Senate Majority Leader Mitch McConnell deflected questions from reporters, saying he'd "be happy to respond" on Tuesday.
But some GOP lawmakers took the unusual step of directly criticizing Trump, who remains a powerful force with the party's base.
Republican Senator Tim Scott of South Carolina, who is black, decried the president's "unacceptable personal attacks and racially offensive language," saying it would further divide the nation.
Ohio Republican Representative Mike Turner, who is white, said on Twitter that Trump's tweets over the weekend "were racist and he should apologize."
Three of the four women Trump was apparently referencing were born in the U.S.; none is white. The comments came as U.S. authorities began raids reportedly targeting 2,000 undocumented immigrants in the U.S. Trump declined to say Monday how many people were taken into custody.
"The ICE raids were very successful," Trump told reporters at the White House on Monday. "Many were felons. Many were convicted of crimes."
Separately, the Trump administration said that it was going to end asylum protections for most Central American migrants who cross the U.S. southern border.
Read More: May Says Trump Tweets on Democrats 'Completely Unacceptable'
Trump also continued his attack on the four lawmakers.
"All I'm saying is if they're not happy here, they can leave," the president said at the White House. "I'm sure that there will be many people that don't miss them."
Treasury Secretary Steven Mnuchin defended the president. "I don't find them racist," Mnuchin said at a briefing. "The president just went on and clarified his comments. I think he speaks for himself on that and he was very clear."
The president's attacks give Pelosi a new chance to unify her fractious caucus by redirecting their ire toward Republicans. Just last week, Ocasio-Cortez accused the speaker of being "outright disrespectful" in saying the four freshman lawmakers "didn't have any following."
The tweets from Trump started Sunday and continued Monday morning and seemed aimed at first-term Representatives Ocasio-Cortez, Rashida Tlaib of Michigan, Ilhan Omar of Minnesota and Ayanna Pressley of Massachusetts. "The Squad," as the progressive quartet is known, has been engaged in an intra-party dispute with Pelosi.
Trump said the lawmakers "originally came from countries whose governments are a complete and total catastrophe" and should go back and help fix the countries and "then come back and show us how it is done."
Twitter said on Monday that Trump's tweets do not break its rules. In June, the company said it would begin hiding "controversial content or behavior which may otherwise violate our rules" behind a warning label that explains the tweet is against company guidelines, but has been left up because of a "legitimate public interest."
One of Trump's key allies in Congress, GOP Senator Lindsey Graham of South Carolina, offered his own advice to the president. "Mr. President you're right about their policies, you're right about where they'll take the country. Just aim higher," Graham said on Fox News.
Trump said later, "I disagree with Lindsey."
Senator Pat Toomey, a Pennsylvania Republican, said Trump's statement was "wrong." "We should defeat their ideas on the merits, not on the basis of their ancestry," Toomey said in a statement. Republican Senator Susan Collins of Maine also called on Trump to withdraw his remarks.
Trump on Monday accused Omar of talking about "how great al-Qaeda is." She said in March that the Council on American-Islamic Relations was created after the Sept. 11 attacks because it "recognized some people did something and all of us were starting to lose access to our civil liberties."
In response to Trump, Ocasio-Cortez sent four tweets of her own, saying he was "angry" because he doesn't "believe in an America" where women like her are elected to Congress.
Pressley said on Twitter "THIS is what racism looks like. WE are what democracy looks like. And we're not going anywhere."