Pelosi, Top Democrats Lobby Biden on Tanden Replacement
(Bloomberg) -- Top House Democrats including Speaker Nancy Pelosi are lobbying President Joe Biden to promote Shalanda Young, his pick for deputy budget director, to the agency's top job after Neera Tanden withdrew her nomination.
Pelosi, as well as Majority Leader Steny Hoyer and Whip Jim Clyburn, spoke with the White House Tuesday night to vouch for Young's ability to lead the Office of Management and Budget, according to two people familiar with the matter.
As the top Democratic staff member on the House Appropriations Committee, Young has been at the center of talks to finance the government since March 2017, and she is widely respected in both parties. Members of the Congressional Black Caucus have been advocating for her since last week.
When Young appeared Tuesday before the Senate Budget Committee, the panel's top Republican, Lindsey Graham of South Carolina, said he would vote for her nomination as deputy and "maybe" for director as well.
Other potential candidates include Gene Sperling, the former Obama and Clinton National Economic Council director, and Ann O'Leary, the former chief of staff to California Governor Gavin Newsom.
John Jones, a former aide to Representative Emanuel Cleaver, a CBC member, and Jared Bernstein, a member of the Council of Economic Advisers, are also in the mix, according to third person familiar with the matter.
White House press secretary Jen Psaki said Biden isn't expected to name a new nominee this week.
Biden will likely face pressure to choose a woman or minority as his next nominee. Tanden, who is Indian American, would have been the first woman of color to serve as budget director.
Tanden, who led the liberal Center for American Progress for nearly a decade, is Biden's first cabinet-level nominee to fall short of the support needed to win confirmation, as the Senate slowly considers remaining nominees.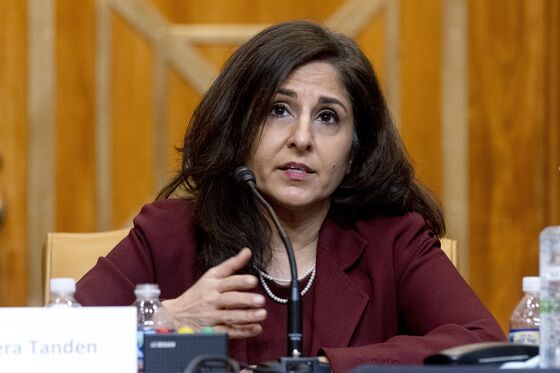 Her selection in late November touched off an angry backlash on the right and the left over sarcastic Twitter posts that were critical of her political opponents, including supporters of Vermont Senator Bernie Sanders and as well as prominent Republicans. Several of those targets would be voting on her nomination.
Members of the CBC who are pushing for Young's promotion have pointed out that she doesn't tweet.
Tanden's nomination had been in trouble for more than a week, after Senator Joe Manchin, a West Virginia Democrat, announced he would oppose her. With only 50 senators in the Democratic caucus, Manchin's opposition means Tanden would have needed support from at least one Republican.
Biden said in a Tuesday statement that he had "the utmost respect" for Tanden's record of accomplishment" and would find another place for her in his administration.
The head of OMB is responsible for drafting and releasing the president's budget request -- an annual wish-list of the administration's spending and policy priorities. The office also coordinates on policy and regulation with federal agencies.