Pelosi to Name Select Committee to Probe Jan. 6 Capitol Riot
(Bloomberg) -- House Speaker Nancy Pelosi said she will create a select committee to investigate the Jan. 6 insurrection at the Capitol after Republicans blocked naming an independent commission to conduct the probe, but the chamber's top Republican did not commit his party to participating.
Pelosi said Thursday that with little chance of establishing an outside inquiry, she would act to form the panel of lawmakers to investigate the causes of the attack by a mob of former President Donald Trump's supporters and what can be done to prevent similar violence in the future.
"January 6 was a day of darkness for our country," Pelosi said Thursday at a news conference. "It is imperative that we establish the truth of that day and ensure that an attack of that kind cannot happen, and that we root out the causes of it all."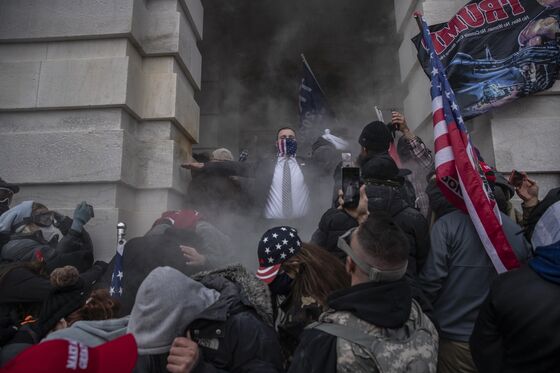 Pelosi didn't offer a timeline, saying the investigation will run as long as it takes. She didn't say when she will appoint its Democratic members or whom she might choose to lead the panel.
Among lawmakers being mentioned is Homeland Security Committee Chairman Bennie Thompson of Mississippi. Majority Whip Jim Clyburn of South Carolina said, "I would love to see him do that." But Democratic Caucus Chairman Hakeem Jeffries said, "I'm sure there will be no shortage of people raising their hands."
Pelosi said the Democratic-led inquiry will look beyond the causes of the insurrection at how to better protect the Capitol against such an insurrection.
"While I think we could have been better prepared, I don't think anybody could have foreseen an insurrection incited by the president of the United States," she said, referring to Trump.
House GOP leader Kevin McCarthy said Pelosi hadn't contacted him about her decision. Asked whom he might deploy to lead Republicans on that panel, he responded, "You assume I put somebody on?"
Multiple House and Senate committees already have been probing the intelligence and security failings on Jan. 6 that allowed the mob to breach the Capitol building and interrupt Congressional certification of the Electoral College results of the 2020 presidential election.
House Democrats impeached Trump on charges of inciting the mob. He was acquitted by the Senate after leaving office.
The House passed legislation to create an independent, bipartisan commission to investigate the riot, modeled on the panel that led the inquiry into the Sept. 11, 2001 terrorist attacks. But the bill fell short of the 60 votes needed to advance in the Senate, with Trump and Senate GOP Leader Mitch McConnell rallying most Republicans to oppose the probe.
While that panel would have been evenly divided between Democrats and Republicans, should they participate, a House select committee would have the Democratic majority in charge of the investigation.
GOP Representative Liz Cheney of Wyoming, an outspoken critic of Trump's actions surrounding the riot, said this week a full investigation was needed.
"We should have passed a bipartisan commission," she told reporters at the Capitol. "Since that didn't happen, I think it's very important for us to have something else."
"This was the worst attack on the Capitol since 1814 and we have to have an investigation," Cheney said.
McConnell and other Republicans accused Democrats of wanting the commission as a political weapon in next year's House and Senate campaigns by focusing on the role of Trump and his supporters in the violence.
Republicans took a similar tack after the 2012 attack on a U.S. compound in Benghazi, Libya. McCarthy, then a representative, credited the Benghazi panel with harming Hillary Clinton's candidacy for the 2016 Democratic presidential nomination.
If Pelosi chooses Thompson to be the select committee's chairman, Representative John Katko of New York might be considered a natural choice to lead Republicans on the panel. He's the ranking Republican on Thompson's Homeland Security panel and was, with Thompson, a co-author of the House-passed bill to set up a commission.
Katko has drawn the ire of some Republicans, including Trump. He and Cheney were among 10 Republicans who voted with Democrats to impeach the former president, and most of his GOP colleagues also voted against his commission compromise plan.
Katko said an independent probe by a panel composed of people outside government would have better served to "depoliticize" a review of Jan. 6.
Trump continues to push false claims that the 2020 presidential election was fraudulent, and overturning the election was a key motivation for many who stormed the Capitol. Hundreds of people have been arrested in connection with the violence.