Pelosi to Decide on Select Panel to Probe Capitol Riot
(Bloomberg) -- House Speaker Nancy Pelosi plans to announce this week whether she will create a select committee to investigate the Jan. 6 insurrection at the Capitol after Republicans blocked naming an independent commission to conduct the probe, a spokesman said.
Pelosi set out the timetable at a leadership meeting, Drew Hammill, Pelosi's deputy chief of staff, said.
"Her preference continues to be a bipartisan commission which Senate Republicans are blocking," Hammill said on Twitter.
A person familiar with the meeting had said earlier that Pelosi had told the group she decided to appoint a select committee to investigate the causes of the attack by a mob of then-President Donald Trump's supporters and what can be done to prevent such future violence.
"No I did not make that announcement," Pelosi told reporters.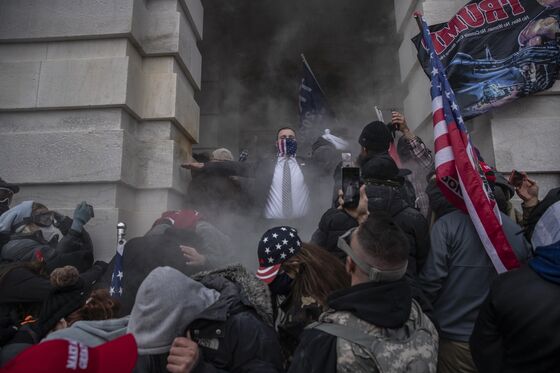 Multiple House and Senate committees have been probing the intelligence and security failings on Jan. 6 that allowed the mob to breach the Capitol building and interrupt Congress's certification of the Electoral College results of the 2020 presidential election.
House Democrats impeached Trump on charges of inciting the mob, but he was acquitted by the Senate after he left office.
The House passed legislation to create an independent, bipartisan commission to investigate the riot, modeled on the panel that led the inquiry into the Sept. 11, 2001, terrorist attacks. But the bill fell short of the 60 votes needed to advance in the Senate, with Trump and Senate GOP Leader Mitch McConnell rallying most Republicans to oppose the probe.
While that panel would have been evenly divided between Democratic and Republican appointees, a House select committee would have the Democratic majority in charge of the investigation.