Pelosi Talks Up Party Unity With Some Democrats Wary of Sanders
(Bloomberg) -- Speaker Nancy Pelosi on Thursday attempted to calm House Democrats who are expressing concern over the potential of having Bernie Sanders at the top of the ticket in November, saying the party will stay unified and candidates will run on a mainstream agenda that will appeal to voters.
"Unity, unity, unity. Whoever our nominee is, we will support," Pelosi said at a news conference.
Democrats representing swing districts have been raising alarms that Sanders, a self-described democratic socialist who is proposing expansive government programs and higher taxes on the wealthy, is going to turn off voters in parts of the country that the party is counting on to hold its House majority. Democrats will be defending House seats in 30 districts President Donald Trump won in 2016.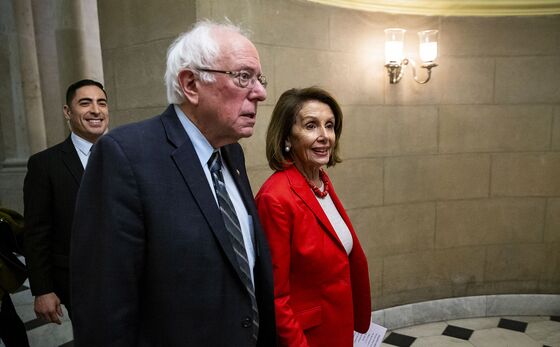 Pelosi said Democrats will keep the majority by campaigning on the same themes and issues that they used to win the House in 2018, one that is "mainstream and not menacing."
Sanders, a Vermont senator, is the front-runner in most national polls and currently leads the race for the delegates that will determine the nominee at the Democratic National Convention in July. Support for a more centrist alternative has been divided among former Vice President Joe Biden, former New York City Mayor Michael Bloomberg, former South Bend, Indiana, Mayor Pete Buttigieg and Senator Amy Klobuchar.
(Bloomberg is the founder and majority owner of Bloomberg LP, the parent company of Bloomberg News).
A party's presidential candidate can influence voter turnout and enthusiasm. But Pelosi said it's not unusual for congressional candidates to run on different issues or platforms from their party's presidential pick.
"We have to win in certain particular areas. We are not about a popular vote in the country, or in particular states in terms of the Electoral College," she said. "We are district by district. And that's how we won last time."
Pelosi said if Democrats are successful in the November election, they will put "everything on the table, have discussions, and see where we go," to resolve differences on priorities and their legislative agenda.
She said she has told House Democrats they need to make a commitment to win their races and to focus on that.
"The presidential is its own race," Pelosi told reporters. "Contrary to what you have been hearing or writing, we are all unified."