Pelosi, Mnuchin Move Closer to Stimulus Deal Amid Senate Doubts
(Bloomberg) -- House Speaker Nancy Pelosi said Tuesday she's hopeful for a stimulus agreement this week, which would be crucial to getting a bill passed by Election Day, although Senate Majority Leader Mitch McConnell has warned the White House against a bigger Pelosi-led deal before Nov. 3.
"That's the plan. That's what I would hope," Pelosi said about reaching a compromise this week. She spoke to reporters after her latest call with Treasury Secretary Steven Mnuchin Tuesday.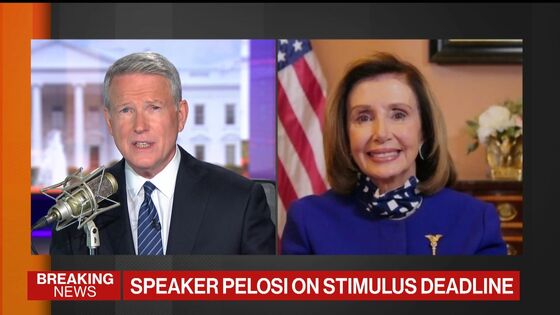 The White House also expressed some optimism on progress. Chief of Staff Mark Meadows said on CNBC that "everybody is working real hard" to get an agreement by the weekend, although he cautioned that there are still some outstanding issues.
"I want to stress: We're not just down to a difference of language and a few dollars," Meadows said. "We still have a ways to go."
Even if remaining differences can be bridged, Senate Republicans remain a key roadblock, as many oppose a bill on the scale of what's now under negotiation. Majority Leader Mitch McConnell has warned the White House not to rush into an agreement before the election, according to a person familiar with the matter.
The administration's offer has increased to $1.88 trillion, Meadows said. Pelosi is pushing for $2.2 trillion, while President Donald Trump reiterated Tuesday he could be willing to go even bigger.
The twists and turns of the stimulus talks have been roiling equities. The S&P 500 Index slumped 1.6% Monday, then climbed as much as 1.5% Tuesday after Pelosi noted progress being made. The gauge pared gains to close up 0.5%.
S&P 500 contracts edged higher after Pelosi later wrote in a letter to Democratic colleagues that the stimulus package would be "safer, bigger, and better, and it will be retroactive." S&P 500 futures rose 0.4% as of 10:10 a.m. in Tokyo.
Pelosi's spokesman, Drew Hammill, said the negotiators are moving closer to an agreement and "both sides are serious about finding a compromise."
McConnell said his chamber would take up a comprehensive coronavirus stimulus package "at some point" if Pelosi and Mnuchin are able to resolve the final areas of disagreement and get a bill through the House. But he didn't say whether he would support such a deal, or encourage GOP members to back it.
"It's very unlikely that a number of that level would make it through the Senate, and I don't support something of that level," Senator Mitt Romney told reporters, referring to a number of $1.8 trillion or higher.
Appropriations Chairman Richard Shelby said his staff doesn't have the details from Mnuchin or Pelosi they need to work out a bill.
"I'm not optimistic about us doing anything," Shelby said. "We should have done something and we had the opportunity and the Democrats wouldn't do it several months ago."
Pelosi had tasked House committee chairmen to work out legislative language on a bill with their Senate Republican counterparts. Talks among appropriations committee members stalled because the levels of spending in accounts they are trying to resolve are interlinked with with areas of disagreement in the core Pelosi-Mnuchin talks, according to aides in both parties.
Nevertheless, Pelosi said in a Bloomberg TV interview earlier Tuesday that "we are starting to write a bill." She added that she was pleased with the Trump administration's latest position on coronavirus testing and tracing. The two sides are also "in range" on other health care provisions, she said.
While Mnuchin and Pelosi kept up their negotiations, McConnell moved on a separate front Tuesday to try to shame Democrats for blocking specific measures on which there's bipartisan agreement.
McConnell forced a symbolic vote on the $120 billion Continuing Paycheck Protection Program Act, a standalone bill providing coronavirus relief to small businesses. Democrats showed they have enough votes to block it.
Read More: Senate Democrats Vote Against GOP Small Business Virus Aid Bill
That was the first of two smaller-scale items. On Wednesday, McConnell will seek to proceed with a $500 billion GOP relief package that would extend expired unemployment benefits and provide small business relief and liability protections for businesses, among other provisions.
"There are so many places where their bills are inadequate," Senate Minority Leader Chuck Schumer said Tuesday. Pelosi is now trying to get a "big, bold" bill to address the nation's needs, he said.
If that fails, "we will try to get one in the lame duck and we will try to get one should we win the presidency and the Senate after that," he said. The lame duck refers to the period between the election and the swearing in of the new Congress.