Trump Advisers, Democrats Resuming Stalemated Virus Relief Talks
(Bloomberg) -- Talks to break an impasse over a new virus relief package become increasingly urgent this week with millions of jobless Americans left without additional aid, and the Senate scheduled to leave for an extended break on Friday.
Republicans and Democrats remain far apart on some of the biggest sticking points, including extending supplemental unemployment insurance, despite claims of some progress on other issues following a weekend meeting between House Speaker Nancy Pelosi, Senate Democratic leader Chuck Schumer, Treasury Secretary Steven Mnuchin and President Donald Trump's chief of staff, Mark Meadows.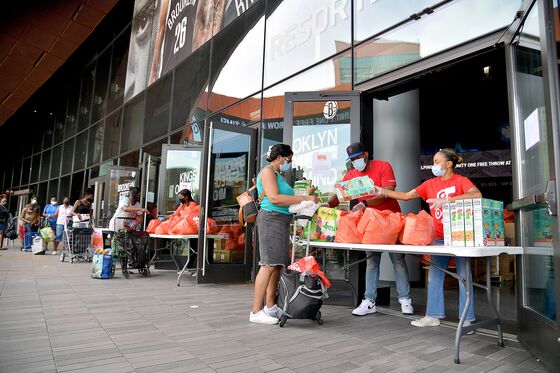 "We'll be meeting again tomorrow," Meadows said Sunday on CBS's "Face the Nation." "But I'm not optimistic that there will be a solution in the very near term."
The two sides are attempting to close the gulf between the $3.5 trillion virus relief package that Democrats passed in the House in May, and the $1 trillion GOP plan that Senate Majority Leader Mitch McConnell unveiled last week.
Among the biggest differences is whether to extend the $600 a week in extra unemployment aid that was part of the $2.2 trillion stimulus passed in March. Republicans have proposed cutting that by as much as two-thirds and creating a formula that would replace about 70% of former wages. Democrats want to keep the previous level of support, at least for now.
Read More: U.S. INSIGHT: Over the Cliff –- What End of Benefits Means
Mnuchin said on ABC's "This Week" that the administration had proposed a one-week extension of the $600 as a bridge to a longer-term solution while talks continue, and that he was "surprised" Democrats didn't agree to that.
Pelosi, speaking separately on the same program, said Democrats are unified on keeping the supplemental aid at $600 and has said they won't agree to any short-term extension without more progress toward an agreement for a broader package.
"We have to have this done," she said in a separate interview on MSNBC. "What are we going to do? Come back to the table in two or three months, again? No."
Republicans argue the $600 payment, on top of state unemployment benefits, creates a disincentive for some workers to return to jobs that would pay them less. "We know factually there are cases where people are overpaid," Meadows said. "There are cases where people are underpaid."
Pelosi said the GOP position amounted to "condescension" toward the unemployed "because they're saying, [people] really don't need it; they're just staying home because they make more money." She suggested the amount of the supplemental benefit could at some point be tied to the unemployment rate, which was 11% in June, but not as part of the current talks.
A recent University of Chicago study found 68% of jobless workers eligible for benefits receive more in unemployment payments than they previously earned. But a Yale University study published last week found no evidence that the extra unemployment benefits discouraged people from returning to work.
Besides the question of aid for the unemployed, the biggest roadblocks remained McConnell's plan to shield employers against lawsuits stemming from Covid-19 infections, and Democrats' drive to provide $1 trillion in aid to state and local governments.
While some Republicans are balking at any additional stimulus because of the impact on the nation's debt, Minneapolis Federal Reserve Bank President Neel Kashkari said on CBS's "Face the Nation" that the surging U.S. savings rate means the country can afford aid that would speed an economic recovery.
"Right now the U.S. can fund itself at very, very low rates," he said. "Congress should use this opportunity to support the American people and the American economy."
Fed officials, after cutting interest rates aggressively, have repeatedly pointed out the need for more support from the fiscal side to help the U.S. endure the pandemic.