Pelosi Says Barr 'May Be Whitewashing' His Mueller Summary
(Bloomberg) -- House Speaker Nancy Pelosi said Attorney General William Barr "may be whitewashing" in his summary of Special Counsel Robert Mueller's probe into Russian interference in the 2016 election.
Pelosi's comments come as Washington braces for Barr to turn over Mueller's report to Congress within the week and for a partisan clash that's all but certain to follow over what Barr held back.
"He may be whitewashing, but I don't know if he's covering anything up," Pelosi said in an interview airing Sunday on CBS's "60 Minutes." "There's no use having that discussion. All we need to do is see the Mueller report."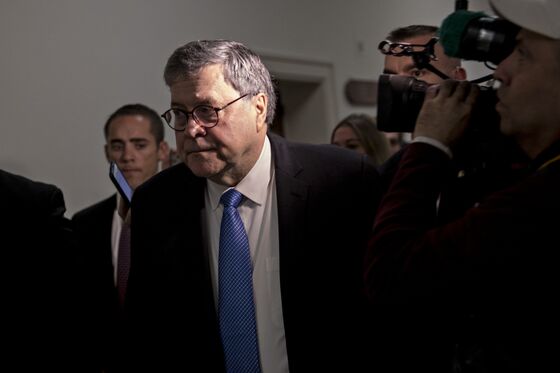 Barr previously released a summary that said the report found no collusion between Donald Trump's 2016 presidential campaign and Russia, and that, despite evidence "on both sides of the question" of whether Trump obstructed the probe, the evidence didn't back a finding of obstruction.
Pelosi and other Democratic leaders want access to the entire report and said they aren't satisfied with Barr's assurance that he will explain why he is redacting parts. They also slammed Barr's recent testimony that he believes the FBI and possibly other U.S. intelligence agencies spied on members of Trump's campaign.
Asked to describe Trump, Pelosi said the president "describes himself on a daily basis" -- and that while she respects the office and can work with Trump, "there's nobody in the country who knows better that he should not be president of the United States than Donald Trump."
Trump criticized her leadership in return.
Pelosi, 100 days after after regaining her title as House speaker, was already looking ahead to the 2020 presidential and congressional elections. She cast them as key to the survival of the U.S. amid what she has previously called Trump's "unconstitutional assault on the Constitution."
The country is "built on a strong foundation to withstand everything including the current occupant of the White House," she said. "I don't think for two terms, though."