Pelosi Wins Democrats' Nomination for Speaker as Opponents Fade
(Bloomberg) -- Nancy Pelosi cleared the first hurdle to serve as House speaker by winning Democrats' nomination on Wednesday, leaving her detractors one last opportunity to attempt to block her when the entire chamber votes in January.
Democrats voted 203-32 to nominate the California lawmaker during a closed-door meeting on Wednesday. The number was short of the 218 votes she eventually needs to prevail on the House floor Jan. 3 if all members are present and cast a ballot. But some dissenting Democrats are likely to support her at that point if the alternative is a Republican.
"Our diversity is our strength but our unity is our power," Pelosi told reporters as the votes were being counted. "I think we're in pretty good shape" to prevail on Jan. 3, she added. "Are there dissenters? Yes, but I expect to have a powerful vote as we go forward."
Although Pelosi, 78, ran unopposed, a core group of Democrats argue the party needs new leadership from a younger generation of lawmakers. They pledged to vote against her and say she still doesn't have enough support to win the floor vote, even as some of their members reversed course to say they were open to voting for her.
Pelosi gave the green light for some Democrats to vote against her, including those who pledged to oppose her during their campaigns, with the understanding that they would back her on the House floor in January, according to a person familiar with the matter.
This is a crucial moment for the party that swept into power after this month's midterm elections and will use its new House majority to provide a counterpoint to President Donald Trump ahead of the 2020 elections. Pelosi's supporters say she's a skilled tactician and can balance the demands of energized progressives pushing for a more liberal policy agenda while protecting centrist members who won traditionally Republican districts.
The incoming House speaker will have to work with a Senate and White House controlled by Republicans, which is likely to mean few legislative accomplishments for either party.
Democrats will face considerable pressure from Trump's fiercest critics to begin impeachment proceedings against the president, especially after Special Counsel Robert Mueller concludes his investigation of Russian interference in the 2016 presidential election. Many Democrats warn that they need to be careful to avoid a political battle that will turn Republicans and independents against them before the 2020 elections.
Democratic opposition to Pelosi, led by Representative Seth Moulton of Massachusetts, has waned in recent weeks. Pelosi, who served as speaker from 2007-2011, has successfully deployed pressure and persuasion to fend off the revolt.
In January, Democrats will hold at least 234 seats in the 435-person chamber; the outcome of a few races are still undetermined.
Pelosi has a little over a month to pick up the approximately 18 votes she'll need to be elected speaker if all House members cast a valid vote in January. Four of those who backed her Wednesday are delegates representing U.S. territories who won't have a vote on the House floor. One of her supporters was absent Wednesday.
Representative Eric Swalwell of California, a Pelosi ally, said he has "zero" doubts that she'll become speaker.
Pelosi has been understanding of the handful of incoming Democrats who won GOP-held districts with promises that they'd oppose her as speaker -- she told them to "just win, baby." Joe Cunningham of South Carolina and Abigail Spanberger of Virginia are among those who said they'd vote against Pelosi on the House floor. Gil Cisneros, whose California race was so close that it wasn't called until weeks after the election, said Monday he won't vote for Pelosi, giving a boost to her opponents.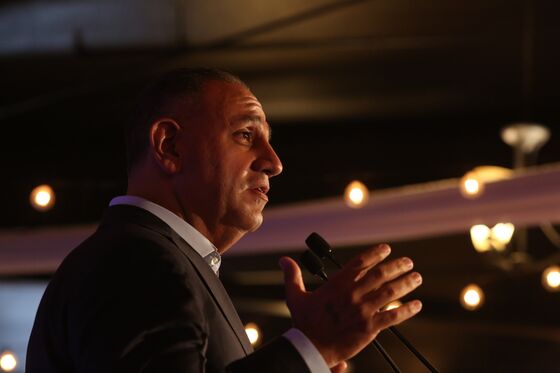 She has been less tolerant of the dozen incumbents who signed a Nov. 19 letter calling for new leadership, without a viable alternative to lead the party. Marcia Fudge, an Ohio Democrat, briefly considered throwing her hat in the ring, but last week she said she won't run for speaker and will support Pelosi.
Representative Kathleen Rice of New York said she and other dissidents met with Pelosi on Wednesday to seek a plan for a transition to new leadership, but their concerns were "dismissed outright." Rice said she expects talks to continue.
Jahana Hayes, a Democrat who was elected to a seat in Connecticut, expressed frustration that Pelosi's opponents haven't offered an alternative candidate. "I waited and waited, hoping there would be multiple candidates and we'd have some good choices to make," she said. With so little time left, Hayes said, "there are no other options."
Stephen Lynch of Massachusetts and Brian Higgins of New York both pulled back their public opposition to Pelosi. Higgins went as far as to give her a full endorsement in exchange for a role leading a Medicare buy-in bill and a promise the House would vote on an infrastructure bill, a longstanding bipartisan priority.
The 2018 midterms "laid out a public mandate on a return to checks and balances in Washington, and the challenge of the time is too great to allow the potential for terrible dysfunction to cripple our opportunity to fulfill our constitutional role," Higgins said in a statement. "I will support Nancy Pelosi for speaker."
Pelosi must repeat this feat a few more times if she wants to return to the speaker's chair. In making her case, Pelosi has cited her legislative achievements and argued there should at least be one woman at the negotiating table with Trump and congressional leaders, especially in a year when a record number of women were elected to Congress.