Pelosi's Speaker Bid Caught in Tug-of-War Over Party's Future
(Bloomberg) -- Nancy Pelosi seemed poised to become House speaker again after leading Democrats as they trounced Republicans in the midterm elections.
Instead, her candidacy is caught in a battle over the party's future.
On one side, progressive Democrats have gotten her to embrace more left-leaning policies on health care, climate change and education. But moderates say the party needs new leadership and that Pelosi, 78, who was demonized in Republican campaign ads, is too controversial and too liberal.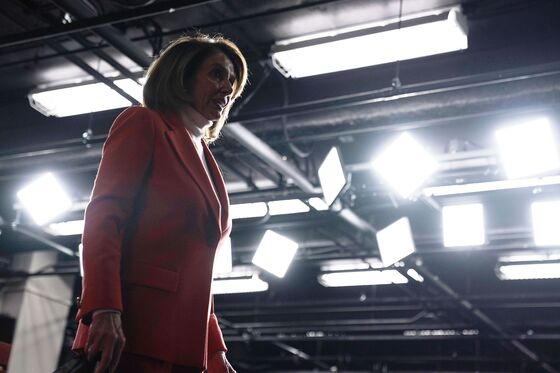 The next phase of the power struggle will unfold behind closed doors on Wednesday when Pelosi will need a majority of Democrats to secure the party's nomination for speaker. Her bigger challenge will be to gain nearly universal Democratic support when the full House votes on Jan. 3.
Pelosi's prospects of returning to the speaker's job have brightened somewhat. For one thing, no candidate has emerged from Democratic ranks to challenge her. 
Also, Pelosi has started chipping away at opposition from more than a dozen incoming freshmen and incumbent Democrats who have called for new leadership. She defused one potential challenge from a prominent member of the Congressional Black Caucus, Marcia Fudge of Ohio. And the California lawmaker retains widespread support among House colleagues who say she's the best suited to help the party challenge President Donald Trump in the 2020 elections.
But Pelosi still hasn't locked up all the votes needed to prevail, and that makes this week's meeting a critical test.
The debate over Pelosi is forcing Democrats to confront an issue the party's presidential candidates will have to address again in two years: whether to run on an expansive, liberal platform or attempt to appeal to moderates by backing centrist policies.
So far, the liberal wing of the party is winning as public opinion has moved leftward on issues like gay marriage, legalizing marijuana and expanding the role of government in health care, said Jason Altmire, a moderate Democrat from Pennsylvania who served in the House from 2006 to 2012. He said the party will have to decide: "A) How do you beat President Trump in 2020, and B) what's the best path for the country on policy?"
"The problem that Democrats are going to have," he said, is Pelosi isn't "popular in all parts of the county and if you want to keep control of the House, you have to win those swing districts that this year went the Democrats' way. If she is at the top, it is going to give Republicans the opportunity to paint the party and to paint Democrats in swing districts as being too liberal and out of step with their districts."
Pelosi, the current House minority leader who previously served as speaker from 2007-2011, has told reporters she's confident she'll be speaker.
"I happen to think that at this point I'm the best person," she said.
Her detractors, led by Democratic Representatives Kathleen Rice of New York, Seth Moulton of Massachusetts and Tim Ryan of Ohio, released a letter last week signed by fifteen members and members-elect, along with one candidate whose race hasn't been called by the Associated Press, pledging to vote for someone else.
"We promised to change the status quo, and we intend to deliver on that promise," the letter said. There are more Democrats who have said they oppose Pelosi but didn't sign on to the letter.
But since then, Pelosi has converted potential opponents to supporters by offering leadership positions and agreeing to changes in House rules. Representative Brian Higgins of New York endorsed Pelosi even after signing the opposition letter.
On the House floor, Pelosi will need 218 votes for a majority -- providing all members show up and vote for someone, and assuming no Republicans vote for her. Democrats will hold at least 233 seats, with the results of two contests still undetermined, according to the AP.
At the same time, many Democrats positioning themselves to challenge Trump in 2020 are putting together a progressive platform resembling that of Senator Bernie Sanders of Vermont, who lost the 2016 Democratic presidential nomination to Hillary Clinton.
Sanders could seek the Democratic nomination again, and Democrats such as Senators Elizabeth Warren of Massachusetts, Kamala Harris of California, Cory Booker of New Jersey and Kirsten Gillibrand of New York are making the case that voters are ready for progressive policies.
The new House majority, which will take control in January, is ready to test that theory.
The Congressional Progressive Caucus and outside groups like Move On and Indivisible endorsed Pelosi as speaker after she pledged to populate at least 40 percent of the five most powerful committees with progressives. That means Democratic membership of committees on Financial Services, Ways and Means, Energy and Commerce, Appropriations and Intelligence will bring left-of-center priorities to policy making.
Representative Mark Pocan of Wisconsin, a leader of the Progressive Caucus, which expects to have more than 90 members in January, said polls show even voters in traditionally conservative districts now agree with progressive policies when presented in the right way.
"I've got to convince people why it's in their best interest" to embrace a progressive agenda, Pocan said. "I'll do it with data and facts."
While some candidates won on a progressive platform in GOP-held districts -- Colin Allred in Texas, Katie Porter in California's Orange County and Jared Golden in Maine -- others who shared their ideology fell short in statewide races.
Many of the Democratic gains in the House came from traditionally Republican districts where candidates ran as independent consensus-builders, pledging to reach across the aisle and in some cases oppose Pelosi's bid to be speaker.
Representative Jim Himes, a Connecticut Democrat, said Democrats need to be "a big tent party" that allows for both progressives like New York's Alexandria Ocasio-Cortez and more moderate members who flipped seats in places like Kansas and Oklahoma.
"You win by letting people do what they need to do to win in their district, and also by being careful not to do things nationally that put your most vulnerable members on the defensive," said Himes, who is chairman of the centrist New Democrat Coalition.
Himes hasn't said whether he'll support Pelosi. But he told Fox News Channel on Sunday: "When the top three people in the House of Representatives are in their late 70s, it would be good for us to have a more diverse group generationally."
In a Colorado House district, Democrat Jason Crow told voters during the campaign that he'd oppose Pelosi, who was branded in commercials for Republicans as a "San Francisco liberal." The Army veteran defeated an incumbent Republican. Some other newly elected Democrats took a similar approach, including Joe Cunningham in South Carolina and Abigail Spanberger in Virginia.
"I campaigned on change and I'm going to keep that promise and push for change," Crow said.
Other Democrats have resisted aligning themselves with any ideology or national figure.
Katie Hill, a newly elected Democrat who won a Republican-held seat in southern California, was endorsed by both the New Democrat Coalition and the Progressive Caucus.
"That's kind of been my campaign, that you can be both," Hill said. "The progressive platform just needs to be messaged in a way that has broader appeal."
Hill supports Pelosi and said the party needs to get past the speaker election so it can set the agenda for the new Congress and start building a record to take to voters in two years.
"Why are we having this internal strife when we don't need to?" Hill said. "Let's just take this and move on."