Pelosi's Quest to Be Speaker Hits 'Uh-Oh' Moment
(Bloomberg) -- Nancy Pelosi's quest to return as U.S. House speaker faces a strong challenge -- even though no fellow Democrat has stepped forward yet to run against her.
The California Democrat's friends and adversaries in the House say she is in political peril and must find more supporters in coming days. If she fails, competing candidates could emerge as she tries to reclaim the speaker's gavel that she previously held from 2007 to 2011. Her first test comes at a meeting of House Democrats in two weeks.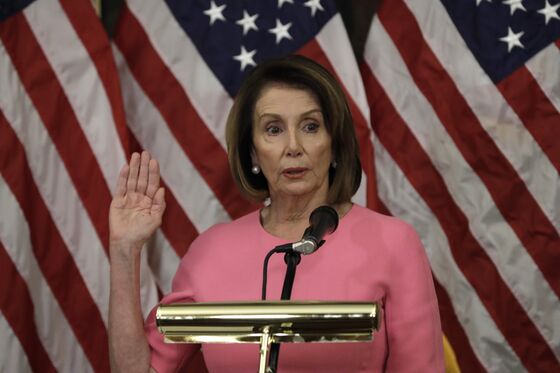 "There's a logic to saying Nancy is the favorite, but it is a fragile logic," said Representative Gerald Connolly, a Virginia Democrat who is a Pelosi supporter. A push by younger Democratic lawmakers for a generational change in party leadership is making it "very hard" for Pelosi, 78, he said.
"You've got to start counting noses," said Connolly. "And that's when you stop and say, 'uh-oh.'"
The leadership struggle is taking place days after a midterm election in which Democrats took control of the House from Republicans in a vote that signaled discontent with President Donald Trump. During their campaigns, some Democrats said they wouldn't support Pelosi for speaker as Republicans and their supporters invoked Pelosi's name in television ads as a reason to keep the GOP in control of Congress.
"We need to protect our majority," said Representative Kathleen Rice of New York, a Pelosi opponent. "Why would you make new members walk the plank on their first vote?"
Pelosi's allies say she's taking the challenge to her leadership seriously in a year when the current No. 4 House Democratic leader, Joe Crowley of New York, was defeated in a Democratic primary.
In public, Pelosi has expressed confidence that she will get the job. Pelosi said "yes" when asked Thursday if she has enough votes to win a floor vote if it were held now.
"I have overwhelming support in my caucus to be speaker of the House, and certainly we have many, many people in our caucus who could serve in that capacity," Pelosi told reporters. "I happen to think that at this point I'm the best person."
A number of veteran House Democrats have announced their support for Pelosi, including statements late Wednesday from Maxine Waters of California, the top Democrat on the Financial Services Committee, and Adam Schiff of California, the ranking party member on the Intelligence Committee.
Democrats could decide her fate in a Nov. 28 meeting. However, party divisions could lead to a protracted internal fight that may be left unresolved until a dramatic floor vote for speaker on Jan. 3.
Democratic Representative Brian Higgins of New York -- who is among about 15 returning and incoming Democrats who say they won't support Pelosi as speaker in a floor vote -- said her challenge is "arithmetical, and real."
To replace the retiring Republican Paul Ryan as speaker, Pelosi will need 218 votes for a majority -- providing all members show up and vote for a named person, and assuming no Republicans vote for her. As of Wednesday, with the outcome of eight House races undetermined, Democrats will hold 229 seats.
Higgins and other Pelosi detractors said there could be 20 to 40 returning and newly elected Democrats who oppose her -- though fewer than 20 have definitively said so. But he and others say that number will increase.
"The ranks are growing, both of incumbent members and incoming members," Higgins said. "A lot of people campaigned on a theme of change and they cannot equivocate."
Seventeen Democrats have signed a letter saying they won't vote for Pelosi, Democratic Representative Seth Moulton of Massachusetts, one of her detractors, told CNN Thursday.
"We know we have the votes," Moulton said, adding that he expects more current and incoming members to sign on.
On the House floor, Pelosi would need a majority of lawmakers to call out her name as their choice for speaker in a roll call vote. Members can merely say "present," a move that would lower the majority threshold needed to win, because only votes for a named candidate will count toward the total. If nobody gets a majority, the voting proceeds to a second ballot, or more, until a candidate clears the vote threshold.
Nobody is publicly saying they'll seek the job if Pelosi doesn't succeed. Higgins says he has talked up Representative Karen Bass, a former speaker of the California State Assembly. And he said there's also "a lot of excitement" around Hakeem Jeffries of New York, though Higgins said that Jeffries is focused on running for the No. 4 Democratic leadership spot. Spokesmen for Bass and Jeffries didn't respond to a request for comment.
Others would consider entering the contest if Pelosi is out of the picture, lawmakers said. Tim Ryan, an Ohio Democrat who opposes Pelosi as speaker, said one possibility is Representative Marcia Fudge of Ohio, former chairwoman of the Congressional Black Caucus.
Connolly and other Democrats said that if Pelosi falls short because of a desire for a new generation of leaders, that will also topple the No. 2 and No. 3 Democrats, Steny Hoyer of Maryland, and James Clyburn of South Carolina.
The Pelosi vote-counting has prompted lawmakers to raise the prospect that Republicans may help her get elected on the House floor. A small group of GOP lawmakers, including Tom Reed of New York, say they might vote for her if she agrees to rule changes they're seeking.
Pelosi dismissed the idea Thursday, and said she would "never" rely on Republican votes. "I intend to win the speakership with Democratic votes," she said.
Pelosi is viewed by colleagues as shrewd and detail-oriented, skilled at making last-second adjustments, which may help her outmaneuver challengers. Representative John Larson of Connecticut, who supports Pelosi, said she won't give up and that "she knows how to count."
Pelosi is using those skills as she courts lawmakers, making phone calls and promises designed to win support, said House officials.
Her efforts include offers to back members for plum, additional Democratic seats on sought-after committees, and offering to reformulate a panel focused on climate change in a way that gives more prominence to the issue. She has also promised some younger lawmakers who will serve as committee vice chairmen that they'll get their own committee staff, which they haven't previously had.