Pelosi Pushes Infrastructure Vote Despite Liberals' Threats
(Bloomberg) -- House Speaker Nancy Pelosi pressed ahead with plans for a vote on a bipartisan infrastructure bill Thursday even though progressive Democrats said they have the numbers to stall it until the Senate agrees on a more expansive tax and spending package.
"We are at the same place we've always been," Representative Pramila Jayapal of Washington state, the head of the Congressional Progressive Caucus, said after leaving a meeting with Pelosi. "We will not be able to vote for the infrastructure bill until the reconciliation bill has passed."
After the meeting, Jayapal sent out a fundraising email saying progressives need to "hold strong." 
"We're also coming up on an important end-of-quarter deadline at midnight tonight, and publishing big fundraising numbers on our quarterly FEC filing is one of the best ways we can show off the strong public support for our progressive agenda," Jayapal said in the email. 
New York Representative Jamaal Bowman said more than 50 members of the progressive group would vote against the infrastructure bill.
Two top aides to President Joe Biden, economic adviser Brian Deese and domestic policy adviser Susan Rice, met with Pelosi's staff at the Capitol as Democratic leaders attempted reach a deal on a separate tax and spending package that will carry much of the president's economic agenda. White House officials later met in Senate Majority Leader Chuck Schumer's office and, separately, with key moderate Democratic Senators Joe Manchin and Kyrsten Sinema. 
A defeat wouldn't kill the infrastructure legislation, but it would delay progress on Biden's two-pronged economic agenda. Pelosi said she had no doubt that the bigger spending package would ultimately be enacted -- despite hitches in negotiations with the Senate over the size and scope of the measure.
Pelosi for much of the day put up a confident front and gave no indication she would pull from consideration the smaller bill offering $550 billion in new spending for public works projects, which already passed the Senate with bipartisan support.
"We're on a path to win the vote," she said at a news conference early Thursday. "I don't want to even consider any other options than that."
 
House Majority Leader Steny Hoyer, the chamber's second-ranking Democrat, was less certain. Asked by reporters if he is confident the infrastructure bill will pass, he said "nope."
Pelosi held a series of meetings with moderate and progressive lawmakers in an attempt to find some bridge between the two wings of the party.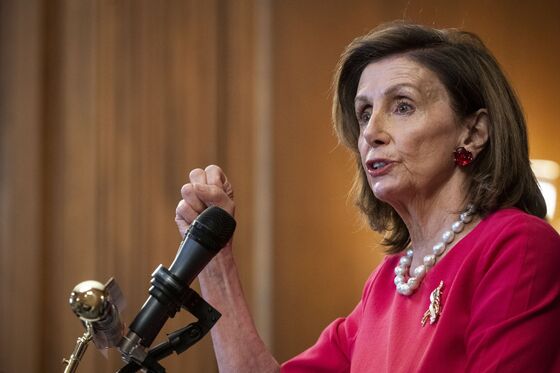 "There's going to be a lot of conversations between now and when we get the vote," Texas Representative Henry Cuellar, one of the moderates demanding a vote this week, said after meeting with Pelosi.
Cuellar said the vote will go forward and it will pass. He added that there is a "gap of mistrust" that is not new in the caucus. 
"This has been going on for years," Cuellar said. "Progressives don't trust moderates."
Washington Representative Suzan DelBene, head of the New Democrat Coalition, said her group is working with other Democrats and the White House to round up votes.
"We are working hard to get to 218," the number needed to pass legislation, DelBene said. "We are focused on getting it across the finish line."
Assistant Speaker Katherine Clark said earlier Thursday that Democratic leaders are continuing to work to lock down the necessary support ahead of the planned vote on the $550 billion package. She said even if that bill isn't passed on Thursday, the impact would be limited.
"Whether that vote happens today -- and I hope it does -- this is not over," Clark said in an interview on Bloomberg TV's "Surveillance" program. "If we haven't reached that point in our negotiations, our commitment is to getting this entire agenda done. And that will happen."
Progressives have pledged to vote against the infrastructure bill unless there's agreement on the larger tax and social spending package. But negotiations on that have been dragging on, Manchin and Sinema raising objections to the proposed $3.5 trillion price tag. 
Their votes are necessary for Democrats to pass the package in the evenly divided Senate, through a budget process known as reconciliation that would bypass a filibuster.
Progressives have asked Manchin and Sinema to unveil a topline number they will support. Manchin's confirmation Thursday that he will back $1.5 trillion in new spending for it didn't assuage the progressives.
For her part, Sinema shared "detailed concerns and priorities, including dollar figures" with Senate Majority Leader Chuck Schumer and the White House in August, spokesman John LaBombard said in a statement. 
While there is some Republican support for the infrastructure legislation, GOP leaders have been linking that bill with opposition to the bigger tax and spending plan Democrats are pushing.
"I think the majority, the overwhelming number of our members will vote no," House GOP leader Kevin McCarthy said.
Senator Bernie Sanders of Vermont, an independent and a leading progressive, called the House moderates' demands for a vote this week "totally arbitrary."
The infrastructure bill "will pass as soon as we have confirmation of a strong reconciliation bill that protects the needs of working families and addresses the crisis of climate change" he said. "We are talking about the most consequential piece of legislation for working people in modern history of this country."