Pelosi Says She's Confident She'll Be Speaker Without Needing GOP Votes
(Bloomberg) -- House Democratic leader Nancy Pelosi said she's confident she'll be elected speaker and that she's the "best person" for the job amid a challenge from some younger members of her caucus.
"I intend to win the speakership with Democratic votes," Pelosi of California told reporters at her weekly news conference Thursday. "I have overwhelming support in my caucus to be speaker of the House, and certainly we have many, many people in our caucus who could serve in that capacity."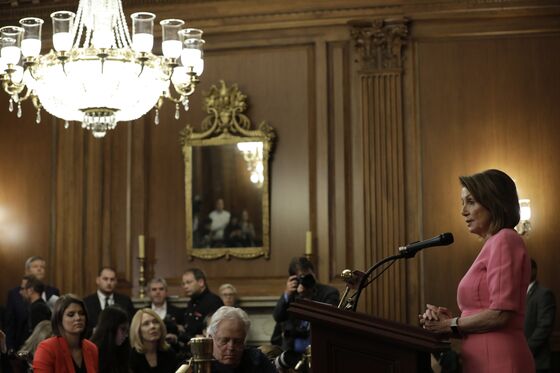 "I happen to think that at this point I'm the best person," said Pelosi. Asked if she would accept Republican help in her bid to return as speaker in January after Democrats won control of the chamber, she responded, "Oh, please."
Pelosi, who served as the first female speaker from 2007 to 2011, responded "yes" when asked if she has enough votes to win a floor vote if it were held now.
Her bid for the speakership is facing significant opposition, although no Democratic candidate has stepped forward to challenge her. The speaker is elected by all House members of both parties, meaning she couldn't win if a substantial number of Democrats defect and all Republicans vote against her.