Pelosi Tries to Herd Democrats Toward Vote on Biden Agenda
(Bloomberg) -- House Democrats worked to resolve lingering differences on a $1.75 trillion tax and spending bill and Speaker Nancy Pelosi signaled she is still rounding up the votes to bring the legislation to the floor.
Pelosi told fellow Democrats she was intending to hold a vote on President Joe Biden's economic agenda Thursday and one on a separate bipartisan infrastructure bill on Friday, according to lawmakers who attended a meeting of House Democrats Thursday. But as the House was wrapping up its final votes of the day, the spending package still wasn't ready. Lawmakers were told to be on call for possible vote later Thursday night.
Pelosi said the House would pass both measures, but at a news conference she deflected questions about the schedule and whether all Democrats were on board to hold a vote.
"I'll let you know as soon as I wish to," she said. "Our members are engaged in a very thoughtful deliberation." 
Although much of the bill has been written, there was last-minute wrangling over a plan to raise the limit on deductions for state and local taxes and on immigration. There also was a last minute hitch on language for a provision to allow the federal government to negotiate prescription prices for the Medicare program.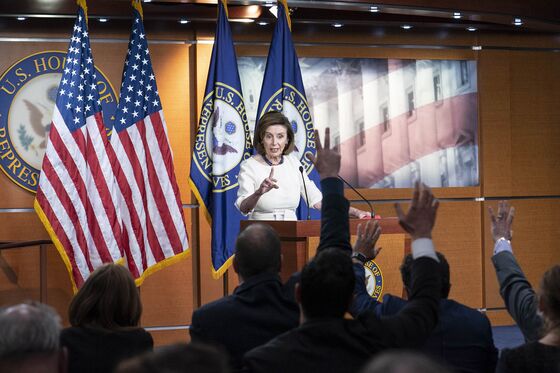 After the legislative text posted, the lawmakers who negotiated the compromise drug pricing bill expressed concerns that it doesn't reflect the deal they struck with party leaders, a person familiar with the discussions among lawmakers said.
"We're working on just clarifying, making sure we're reflecting the deal that we made. That's all," Representative Scott Peters of California said after meeting with Pelosi and Ways and Means Chair Richard Neal of Massachusetts.
"I believe that SALT, immigration as well as prescription drugs is still up in the air," Florida Representative Stephanie Murphy, a leader of a group of fiscally conservative Democrats known as the Blue Dogs. Murphy said she still wanted to see a final bill text and the cost to taxpayers before deciding how to vote.
Pelosi said the House would vote on a proposal to grant deportation relief to undocumented immigrants rather than a pathway to citizenship, given that the Senate parliamentarian has so far indicated the pathway idea is not eligible for the budget bill. 
"It doesn't seem to have a big prospect in the Senate," Pelosi said of a pathway to citizenship. "We don't want to have members vote on something that doesn't have a good prospect in the Senate and is controversial."
On SALT, New Jersey Representative Tom Malinowski said that the House would vote on his proposal to raise the $10,000 state and local tax deduction cap to $72,500 and let the Senate sort out whether it can support that.
The Joint Committee on Taxation on Thursday released an analysis that concluded the bill would raise $1.5 trillion in new taxes.
That's short of the $1.75 trillion Democrats say they want to spend, but doesn't include revenue from increasing Internal Revenue Service enforcement or additional savings from a drug pricing deal that would allow the federal government to negotiate prescription prices. The Congressional Budget Office hasn't yet published its analysis.
Fiscally conservative Democrats have said they want to see analyses of the bill's costs from both the JCT and the CBO before proceeding with a vote on the bill, though it was unclear whether that was holding up action on Thursday.
"There may be some amendments but I don't think we are in a position where major things will be added," Malinowski said. "We can't keep waiting until everybody has agreed to precisely the same language."
Even if the House votes before the weekend, its likely that the Senate will take longer to work on the measure. Any changes made in that chamber then would have to be voted on by the House.
Senate Majority Leader Chuck Schumer said senators will strive to act on the legislation "before Thanksgiving," which is Nov. 25.
But even that schedule may be ambitious. Democratic Senator Joe Manchin, who has fought to trim the size of the package, continues to object to provisions favored by the House, such as paid family leave and immigration. He also said he wants a clearer assessment of the impact of the expansive tax and spending package on inflation and debt.
"I have a lot of concerns, let's put it that way," Manchin said Wednesday night on Fox News. "They're working off the House bill. That's not going to be the bill I work off of."
Schumer said he spoke to Manchin Thursday and they both agreed to "work diligently over the break" to come up with something that can be supported by all 50 Democrats in the Senate.
"There are various sticking points," he said.