Manafort in Wheelchair as He Gets Feb. 8 Sentencing Date
(Bloomberg) -- Paul Manafort, the former campaign chairman to President Donald Trump, appeared in a wheelchair in a Virginia courtroom where his lawyer said he had "significant" health issues and the judge set a Feb. 8 sentencing for his conviction on fraud counts.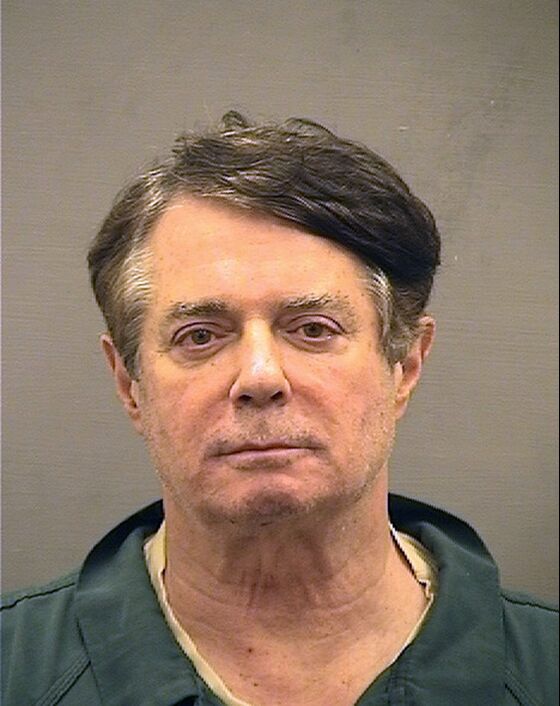 Manafort, 69, wore a dark green jail jumpsuit and never rose from his wheelchair Friday as he appeared for the first time since his Aug. 21 conviction on bank- and tax-fraud charges. Since then, he pleaded guilty to separate charges in Washington and began cooperating with Special Counsel Robert Mueller's investigation of Russian interference in the 2016 election.
U.S. District Judge T.S. Ellis III called the hearing to set a sentencing date for Manafort and order probation officers to begin an investigation of his personal circumstances. Such matters are routine, but the surprise came when Manafort was wheeled into the courtroom, the same one where he had appeared daily in a business suit during his three-week trial.
"There are significant issues about Mr. Manafort's health right now," defense attorney Kevin Downing told the judge. "A lot of it has to do with his terms of confinement."
Ellis responded: "I'm not the judge who ordered those terms of confinement."
Manafort, who's been in custody since June 15, appeared in a jail jumpsuit after Ellis denied his request to appear at the hearing in street clothes.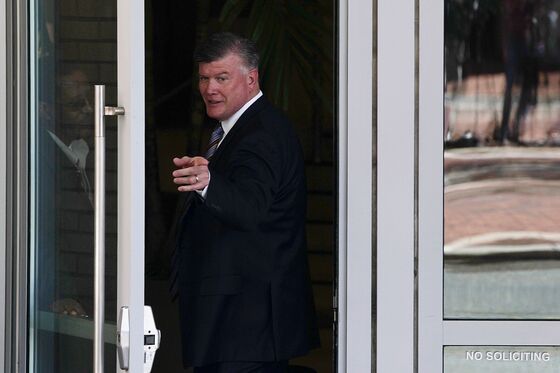 Downing asked the judge to expedite the pre-sentence investigation to help "get him out of the conditions he's in now." Downing didn't specify why Manafort was in a wheelchair.
U.S. District Judge Amy Berman Jackson in Washington revoked Manafort's bail in June after prosecutors said he attempted to tamper with witnesses in his case.
Manafort pleaded guilty on Sept. 15 in Washington and has been cooperating with Mueller's prosecutors as they attempt to determine if Russians worked with anyone in the Trump campaign to interfere in the election.
Ellis said he would consider granting leniency to Manafort either before or after his sentencing, depending on when his cooperation ends and whether prosecutors ask him to do so.
Manafort was convicted on eight counts in Virginia but jurors deadlocked on 10 others, forcing Ellis to declare a mistrial on them. On Friday, Ellis dismissed those 10 counts.
The trial showed how Manafort supported a lavish lifestyle with untaxed income he earned as a political consultant in Ukraine, and how he lied to banks in seeking loans after his Ukrainian work dried up.
He faced a separate trial in Washington but pleaded guilty instead to two conspiracy counts. Manafort said he laundered more than $30 million, cheated the U.S. of $15 million in taxes and failed to tell U.S. authorities about a secret lobbying campaign he undertook on behalf of Ukraine. Manafort also admitted trying to tamper with witnesses, joining with a longtime associate who prosecutors said has ties to Russian intelligence.
Manafort's links to Russian and Ukrainian oligarchs have been a focus of Mueller's prosecutors. He attended a June 2016 meeting at Trump Tower in which Kremlin-backed attendees promised to offer damaging information about Trump's 2016 opponent, Hillary Clinton. Trump's eldest son, Donald Jr., and his son-in-law, Jared Kushner, also attended.
Manafort has agreed to forfeit several New York properties, including a Trump Tower apartment and a sprawling estate in Bridgehampton, New York, along with other assets that fed an upscale lifestyle filled with custom suits and luxury cars.
He faces as long as a decade in prison in Virginia and another 10 years on the two conspiracy counts in Washington. If Mueller is satisfied with Manafort's cooperation, he can recommend leniency to both judges.