Party Ousted by Thai Junta Is Voters' First Choice Ahead of Election
(Bloomberg) -- The party linked to ousted former premier Thaksin Shinawatra remains a "dominant force" in Thailand and leads in polling by an opposition party ahead of a general election expected next year.
About 17 percent of 9,000 people surveyed across Thailand last month said they would vote for the Thaksin-linked Pheu Thai party that was overthrown in a military coup in 2014, according to the poll by tycoon-turned-politician Thanathorn Juangroongruangkit's Future Forward party.
Former Prime Minister Abhisit Vejjajiva's Democrat Party was second with 11 percent, while Thanathorn's eight-month-old party came third on 10 percent. Some 53 percent were undecided, signaling votes are up for grabs as the junta prepares to hold an election tentatively scheduled for Feb. 24.
"Pheu Thai is still leading," Thanathorn said in an interview in Bangkok, describing the party as still a "dominant force." At the same time, its decision to create party offshoots is a wildcard with no guarantee of how support for the related groups will play out, he said.
Some observers say Pheu Thai has created the political affiliates -- most recently one called Thai Raksa Chart -- in part as a hedge against the risk it could be disbanded for alleged connections to Thaksin. He or his allies have won every election dating back to 2001, only to be unseated by the courts or military.
The discord reflects deep fissures in Thai society between urban royalists, known as the so-called yellow shirts, and Thaksin and his rural support base, the red shirts.
Reliable polling data is comparatively scant in Thailand, where the military government continues to ban most political activity.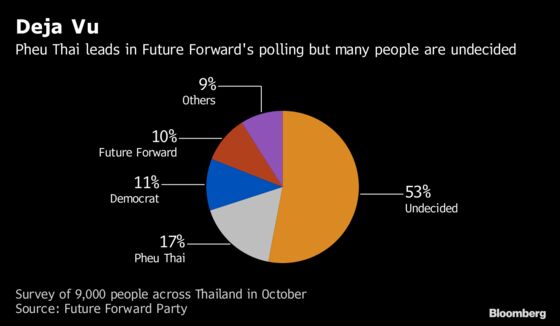 Next year is shaping up to be a test of whether bitter social divisions will flare up and paralyze politics once again after the vote. Junta leader Prayuth Chan-Ocha's coup in 2014 is one of about a dozen since the end of absolute monarchy in 1932.
New parties that support Prayuth, such as Palang Pracharath, may try to forge a minority government in the planned 500-seat lower house and install him as premier, aided by 250 senators to be appointed by the junta, Thanathorn said.
That will lead to a "mess" after the election because key legislation, such as for the annual budget, will need a lower house majority, Thanathorn said. A minority coalition could crumble in a matter of months as a result, he said.
"We're very pessimistic," he said. "We talked with a lot of politicians out there -- none of them see a very bright future."
Future Forward's goal is to win 25 seats, said Thanathorn, who placed third in a poll for preferred prime minister released Sunday by the National Institute of Development Administration. Senior Pheu Thai official Sudarat Keyuraphan topped the survey, with Prayuth second.