Parliament's in the Driver's Seat Now on Brexit: Balance of Power
Even by recent Brexit standards, the drama playing out in Britain's Parliament is remarkable.
The last time a U.K. government lost three votes in one day, as happened yesterday, was 40 years ago. The parallels between then and now are impossible to ignore: bitter in-fighting, surreal filibustering and Machiavellian maneuvering against a backdrop of a country battling to define its relationship with Europe.

Back then, the minority Labour government led by James Callaghan was put out of its misery in a confidence vote, and that very risk similarly hangs over Theresa May before the main Dec. 11 ballot on her Brexit deal.
In short, the prime minister is losing the power struggle with Parliament over the Brexit endgame. It's now possible lawmakers who favor keeping close ties to the EU could seek to take Brexit in an entirely different direction, for example by keeping Britain in the EU's single market or even halting the process entirely.

Ardent Brexiteers may yet see the risk of no deal at all as a reason to rally behind May. They're having to watch as Parliament does exactly what they called for in the 2016 referendum campaign: taking back control — just probably not in the direction they wanted.

Beyond that, when does a political crisis become a constitutional crisis? Can Parliament trump the will of the government? That scenario has to be countenanced as it becomes increasingly unclear where responsibility lies.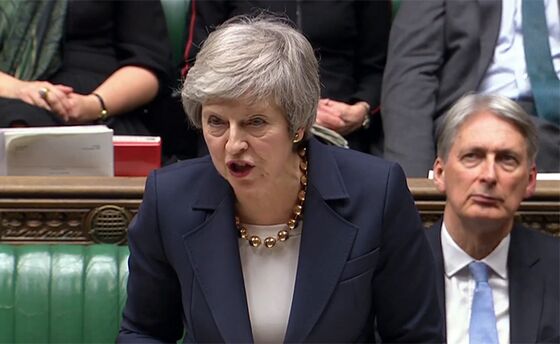 No jail time | Former U.S. National Security Adviser Michael Flynn been so helpful to prosecutors investigating U.S. President Donald Trump's campaign and Russia's alleged attempt to sway the 2016 election that Special Counsel Robert Mueller said he shouldn't go to prison. Flynn's cooperation could signal more trouble for people close to Trump. Mueller said he provided "firsthand information about the content and context of the interactions between the transition team and Russian government officials."

A `smoking saw' | U.S. senators said a classified CIA briefing convinced them that Saudi Crown Prince Mohammed bin Salman played a role in columnist and critic Jamal Khashoggi's dismemberment, with Republican Lindsey Graham describing the evidence as "a smoking saw." Rejecting Trump's efforts to play down the prince's alleged responsibility, Foreign Relations Chairman Bob Corker said that if a jury were to consider a murder case against Prince Mohammed, he'd easily be convicted.

China speaks | Beijing finally addressed Xi Jinping's weekend trade meeting with Trump after days of confusion — fueled by a lack of clarity from officials on both sides — whipsawed markets. China confirmed a 90-day window for talks via a statement from its Commerce Ministry, saying it would move to quickly implement specific items where there's consensus with the U.S. Preparations are now underway for Vice Premier Liu He to lead a follow-up round of talks with U.S. trade czar Robert Lighthizer — possibly this month in Washington.

Improved ties | Jewish expats working in the Persian Gulf are talking publicly for the first time about the synagogue they've established in Dubai. The emergence of the community, numbering about 150 members, reflects warming relations between Israel and Arab states, as well as the U.A.E.'s effort to project an image of religious tolerance. Members hold Sabbath services in the unmarked villa, which houses a sanctuary and a kosher kitchen.

Somber moment | When official Washington and foreign dignitaries turn out today for the late President George H.W. Bush's state funeral, left unsaid will be the years of mutual acrimony between Trump and the Bush family. The event also will mark the first time Trump will be in close proximity to Barack and Michelle Obama or Bill and Hillary Clinton since his inauguration nearly two years ago.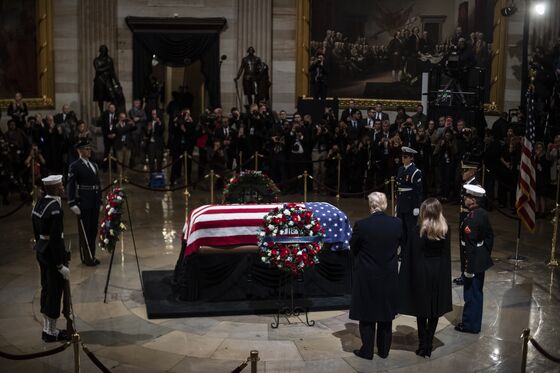 Peace talks to end four years of war in Yemen could start as early as today in Sweden following agreements between Houthi rebels and the Saudi Arabia-backed government on a prisoner swap and medical treatment.
As German Chancellor Angela Merkel's power ebbs following her decision to step down as leader of the Christian Democratic Union, senior officials worry that the succession battle could set off a bout of bloodletting in the nation's biggest party.
General Motors Chief Executive Officer Mary Barra starts two days of meetings on Capitol Hill with lawmakers from states hit by the automaker's plans to shed as many as 15,000 jobs and cancel production at five plants in North America. 

And finally ... Protests by Facebook and Google have fallen on deaf ears in Australia's parliament, which is set to pass legislation allowing police and intelligence agencies to access encrypted messages on platforms such as WhatsApp. Tech companies could be forced to decrypt communications to help police obtain data, as Australia becomes the latest nation to stare down privacy concerns in the fight against terrorism and organized crime.