Paraguay's Biggest Opposition Party to Seek Ouster of President
(Bloomberg) -- Lawmakers of Paraguay's largest opposition party said Monday they will begin preparing impeachment charges against President Mario Abdo Benitez and Vice President Hugo Velazquez amid widespread protests over the administration's management of the pandemic.
All 29 lower house lawmakers of the Authentic Radical Liberal Party backed the decision and an impeachment draft could be shared with other opposition parties as soon as the weekend, lawmaker Celso Kennedy said in a press conference broadcast by NPY.
"We are also going to be coordinating with the other benches so they can contribute ideas they consider pertinent to join the impeachment," he said. "Starting now we have to talk with other lawmakers" to get the necessary majority.
Protesters gathered in front of Congress and other parts of the capital, Asuncion, for a fourth consecutive night. Abdo Benitez is resisting calls for his ouster, with public anger spilling into the streets over drug shortages and the government's failure to buy vaccines. To date, the government has secured enough shots to vaccinate 12,000 of Paraguay's 7 million people. Abdo Benitez named a new cabinet chief and health minister Monday after he pledged over the weekend to overhaul his cabinet in response to the protests.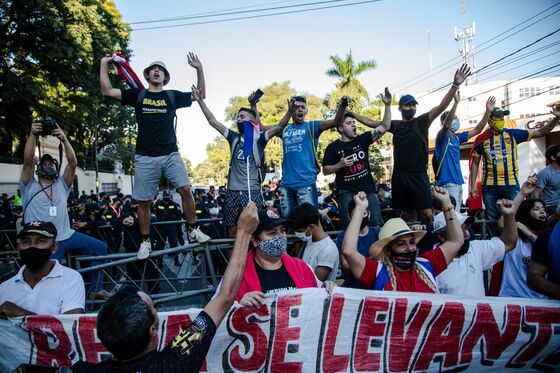 Paraguay's dollar bonds due in 2050 slipped almost 2.3 cents to 110.36 cents on the U.S. dollar on Monday, heading for their lowest level in more than nine months. The currency firmed 0.3% to close at 6,638 Guarani per dollar.
For an impeachment motion to succeed, the opposition would need the backing of lawmakers from the ruling Colorado Party, which is divided between factions loyal to Abdo Benitez, and to ex-President Horacio Cartes. At least two thirds of the Lower House's 80 legislators must approve the start of the process.
If approved, the senate would then oversee a trial that would require votes from at least two thirds of its 45 lawmakers to remove the president from office.
"Everything depends on what Horacio Cartes decides" as he seeks to regain control of the party, said Marcello Lachi, a director at political research organization CEEP-Germinal in Asuncion.
Abdo Benitez's movement is imploding and it probably benefits Cartes if that process continues, Lachi said in an interview. A decision on the president's fate probably won't happen until after municipal primary elections in June that will be a test of strength between the two factions, he said.
Derlis Maidana, a lower house lawmaker close to Cartes, told ABC TV that he and his allies will study the cabinet changes and any impeachment charges before deciding on their stance.
Abdo Benitez, whose five-year term ends 2023, narrowly avoided attempts to start the impeachment process in 2019 over a secret electricity deal with Brazil.
Paraguay had relatively low infection and mortality rates in the early months of the pandemic after Abdo Benitez closed borders and implemented a hard lockdown. However, the number of infections and deaths from Covid-19 have surged since July as the government eased curbs and the public flouted prevention measures.
"There is a big shortage of medicine. That can't be denied. If local industry doesn't have it, we'll have to look abroad," the new health minister, Julio Borba, said in a news conference on Monday. Borba said he expects to receive a shipment of 36,000 vaccine doses this month from the WHO's COVAX program.
The president also named his former legal adviser Hernan Huttemann to lead the cabinet, while Carmen Marin will step down as deputy finance minister to serve as a senior cabinet aide with more changes to the cabinet expected in coming days.