Pakistan's Khan Poses U.S., China Challenges
The likelihood that former playboy cricketer Imran Khan, known for courting Islamist fringe groups, will lead the nuclear-armed nation of Pakistan is sure to raise eyebrows in Washington and Beijing.
Khan's elevation – in an election marred by violence and allegations of military interference and vote rigging – would clear the way for Pakistan to open negotiations with the International Monetary Fund over another, much-needed bailout. Investors are already expressing relief at the prospect of an outright win after expectations of a hung parliament.
But he's also earned the moniker "Taliban Khan" from critics for cozying up to Pakistan's Islamists. He's funded a radical madrassa and said in the past that he will shoot down U.S. drones. The candidate maintains it's not Pakistan's support of proxy groups preventing peace in Afghanistan, but America's presence, which puts him in direct conflict with U.S. President Donald Trump.
China might not be pleased either. Beijing is flooding Pakistan with more than $60 billion in infrastructure loans and investments. Khan, who won power as an anti-corruption crusader, has said these projects need more transparency.
For now, he may choose to focus on Pakistan's economy rather than battle the country's powerful generals over foreign policy and national security issues.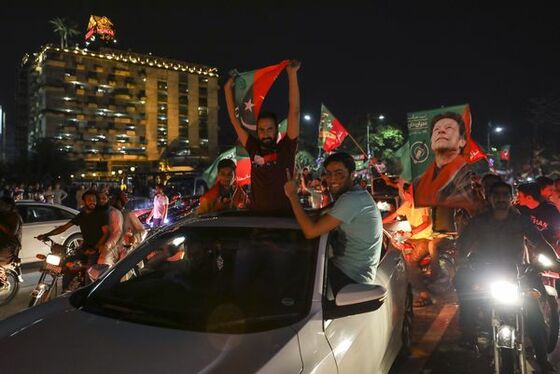 Crisis averted – for now | European carmakers surged after Trump and European Commission President Jean-Claude Juncker declared a ceasefire in their trade spat and agreed to negotiate to reduce barriers to transatlantic commerce. The leaders pledged to expand European imports of U.S. liquefied natural gas and soybeans and to lower industrial tariffs. But experts are divided on what the deal means for U.S. tensions with China.
Impeachment articles | Eleven U.S. House conservatives took the dramatic step late yesterday of filing articles of impeachment against Deputy Attorney General Rod Rosenstein, based on what they say has been nearly nine months of stonewalling of congressional demands for documents related to Special Counsel Robert Mueller's Russian meddling investigation. Rosenstein, though, has proved resilient so far to threats from lawmakers, and some are predicting he'll ride out this latest attack.
Backing away from Putin | The White House announced yesterday that Trump will delay until next year a second summit with Russian President Vladimir Putin that they'd considered scheduling for this fall in Washington. The move, coinciding with Secretary of State Michael Pompeo's Senate grilling over Russia policy, follows a wave of bipartisan criticism of the invitation.
Brexit horsetrading | Theresa May could allow the EU to impose its market regulations on Northern Ireland when the rest of the U.K. breaks away, potentially enraging her key allies in Parliament. The premier is prepared to make that concession to break the deadlock in negotiations, with some EU countries pushing for concessions to the City of London.
User disenchantment | Facebook has been working to convince users it has their best interests at heart, but second-quarter revenue and average daily visitors still missed analysts' projections. The company's first financial stumble in three years comes amid public scandals over privacy and content. Look out for the opening of U.S. markets today when its $151 billion rout could rewrite the history books.
And finally... The European Commission is declaring victory after its agreement with the U.S. prevented the global trade war from escalating. But with no sign Trump plans to return to the Paris Climate Accord, it seems the EU has ditched its pledge to make emissions controls part of any future trade pacts.