Pakistan's Islamists Vow to Protest Release of Christian Woman
(Bloomberg) -- Pakistan's right-wing religious group vowed to defy Prime Minister Imran Khan's call for restraint over a verdict by the Supreme Court that scrapped the conviction of a Christian woman on death row for blasphemy.
In a replay of last November, the supporters of Tehreek-e-Labaik Pakistan partially locked-down major cities on Wednesday in protest against the top court accepting the appeal by Aasia Bibi, who was convicted in 2010 for allegedly insulting the Prophet Muhammad, and set her free. Khan in his speech late yesterday warned protesters in the Muslim-majority country to call off their demonstrations or face action.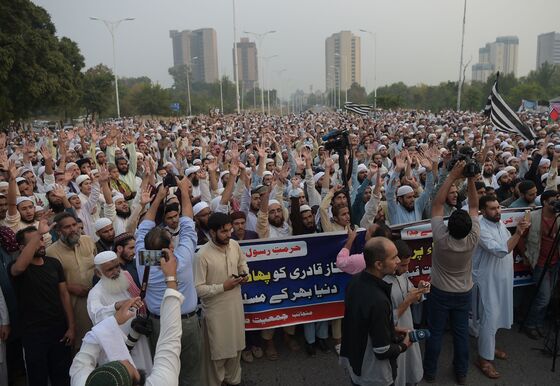 "The verdict was according to the law and the constitution," Khan said. "We all must respect the decision of the Supreme Court."
However supporters of cleric Khadim Hussain Rizvi's Tehreek-e-Labaik say the verdict was given under pressure from the western countries. "We are here on streets as long as our leaders want us to protest," Ejaz Rasool, a spokesman for cleric Tehreek-e-Labaik, said on the phone.
Khan is facing multiple challenges since taking power in August as he meets top Chinese leadership this week to seek financial support to revive south Asia's second biggest economy. He secured a $6 billion package from Saudi Arabia last month and his Finance Minister Asad Umar is also talking to the International Monetary Fund about a bailout.
In his speech, Khan said his government won't tolerate calls by the leaders of Tehreek-e-Labaik to kill the three justices including the Chief Justice Saqib Nisar, who gave the verdict on Bibi. The leaders of the religious group had also declared army chief Qamar Javed Bajwa a non-Muslim, he said.
Khan's speech "which has delivered a strong and defiant rebuke to religious hardliners, suggests that the state may finally be changing course in terms of how it deals with these dangerous and destabilizing elements," Michael Kugelman, a senior associate for South Asia at the Woodrow Wilson Center in Washington, said in a message on Twitter.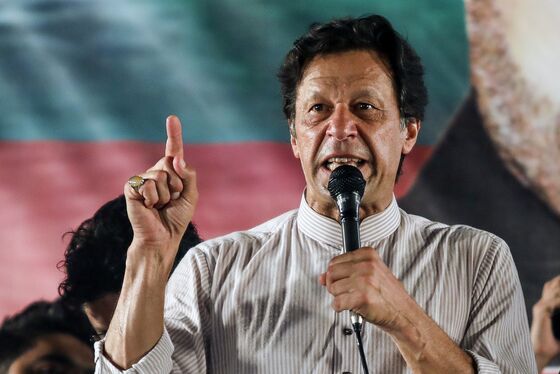 The supporters of the religious group blocked roads, entry and exit points to major cities including the capital, Islamabad, Lahore and Karachi after the judgment. Many schools were closed on Thursday while mobile services were suspended in some areas.
When the group held a similar violent protest last November, they only backed down when the then law minister resigned and the government rescinded changes to a lawmakers' oath that accommodated the persecuted minority Ahmadiyya Muslim sect.