Pakistan Lifts Ban on Radical Group to End Protests
(Bloomberg) -- Pakistan lifted a ban on Tehreek-e-Labbaik Pakistan to end deadly protests by the radical religious group, a move which may embolden the country's hardliners. 
Prime Minister Imran Khan's cabinet allowed the TLP to participate in mainstream politics in "larger national interest" and on a promise that the party won't hold violent protests in the future, according to an Interior Ministry statement on Sunday. The government will also release its top leader Saad Rizvi, who was jailed in April after similar protests, the Dawn newspaper reported.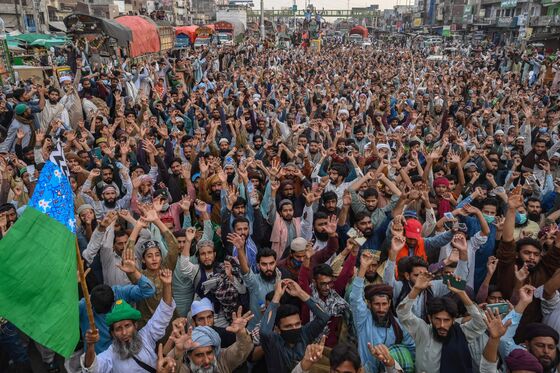 The supporters of the group had blocked one of the country's main highways leading to capital, Islamabad, to demand the release of their leader. They also reportedly sought the expulsion of the French ambassador over earlier remarks made by President Emmanuel Macron about the publication of cartoons ridiculing Islam's Prophet Mohammed. 
The group has held multiple protests in the past which have turned deadly.
This is the first time that Pakistan's government has removed a radical group from the list of proscribed organizations and comes just six months after it was banned amid allegations of links with hostile nations. The TLP represents the Barelvis, the largest Sunni Muslim school of theology in Pakistan.
Far from ending the political crisis set off by the TLP's protests, the government's move will embolden other radical groups to use violence to press the authorities on their demands, according to Zahid Hussain, a political analyst who's written book on security and U.S.-Pakistan relations. "The writ of the state has yet again crumbled in the face of violent extremism."  
Pakistan is also in talks with local militants with links based in Afghanistan. With the Taliban in control of Afghanistan, there are concerns in Islamabad that a spillover in terror activities could affect investments, including China's Belt and Road Initiative.
Protest organized previously by the TLP have led to the undermining of ruling government and resulted in the resignation of a cabinet minister. The latest development gave another chance to the military to show its dominance after representatives of the group met army chief General Qamar Javed Bajwa before the deal with the government.