Ex-Dictator's Aide Named Pakistan Finance Chief Amid IMF Talks
(Bloomberg) -- Pakistan named Abdul Hafeez Shaikh as finance adviser hours after the resignation of Asad Umar as the country continues to negotiate an International Monetary Fund bailout.
Prime Minister Imran Khan appointed Shaikh in a cabinet reshuffle, according to a government statement on Thursday. Shaikh takes on the role of finance chief for a second time following an appointment in 2010 and was the minister in charge of privatizations in the early 2000s during the tenure of military dictator Pervez Musharraf. Umar's resignation had followed an attempt to move him to the energy portfolio.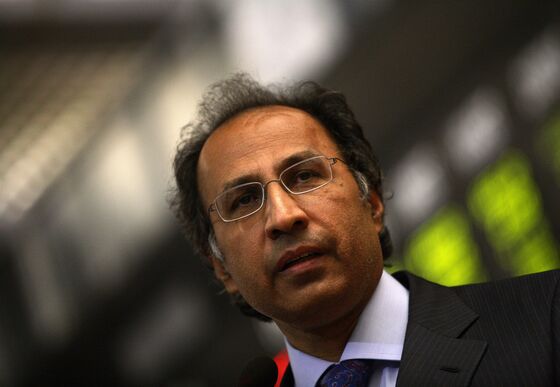 Shaikh will now take on the role of lead negotiator for what would be Pakistan's 13th IMF support program since the late 1980s. His predecessor, the former chief executive officer of Pakistani conglomerate Engro Corp., had been subjected to a campaign of negative media coverage from unnamed government sources that fueled speculation he would be moved as the economy continued to falter.
The new finance adviser has been thrown "in the middle of a storm as IMF talks are on," Asad Sayeed, director at the Karachi-based Collective for Social Science Research consultancy, said by phone. "The economy is in a kind of crunch and important structural reforms wouldn't be easy to implement."
At least two Pakistani local newspaper columnists recently said Umar had displeased the powerful military, which is alleged to have backed Khan during the elections and continues to hold an over-sized influence over the economy and foreign policy. Pakistan's credit score was downgraded by S&P Global Ratings last month, citing deterioration in the economic outlook and delay in securing an IMF program.
"In the eight months, there were some decisions that gave good results and some that didn't," Umar said in a press conference just after announcing his resignation on Twitter. "I request that whoever becomes the new finance minister and makes difficult decisions, support them and don't think everything will be fixed within three months."
Discussions with the IMF have twice stalled over various disagreements, such as exchange rate policy. Yet an agreement seemed closer recently and Umar was in Washington for talks with the lender last week, ahead of an IMF delegation visit to Islamabad at the end of April. A deal is now likely to be delayed again.
"It will most likely get prolonged as the new finance minister will take time to understand, grasp things," Vaqar Ahmed, the executive director at the Sustainable Development Policy Institute in Islamabad, said before Shaikh's appointment was announced.
Since coming to power in August, Khan's government has faced a balance-of-payments crisis and a depleted treasury that has thwarted the former cricket legend's plans to expand social welfare support across the South Asian nation.
However, Islamabad secured a temporary reprieve thanks to loans and funding from friendly countries, such as Saudi Arabia and the United Arab Emirates.