Ousted Najib Must Face Malaysia Justice, Ex-Prisoner Anwar Says
(Bloomberg) -- Ousted Malaysian leader Najib Razak must be held accountable for any crimes that he may have committed as authorities investigate if he abused power during his nine years in office, according to Anwar Ibrahim, a former prisoner who is now next in line to become prime minister.
"What he squandered from the people, from the wealth of this nation, he has to answer," Anwar said in an interview at his Kuala Lumpur residence. "I can't preempt what will happen, but I think due process will have to take place."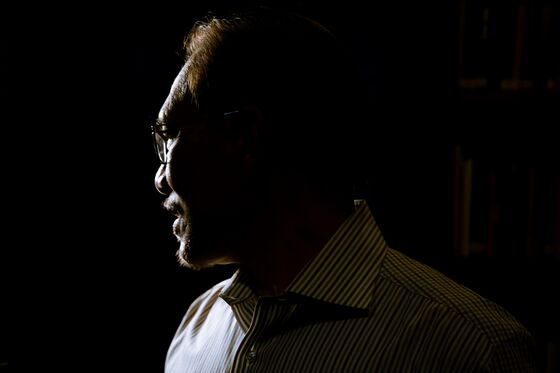 Anwar, 70, was released this week after more than three years in jail on what he had said were politically motivated charges. He said he had forgiven Najib "for the crime committed against me."
The de facto leader of the coalition that backs Prime Minister Mahathir Mohamad, Anwar secured a full pardon during his release, clearing the path for his return to politics and the premiership. Mahathir had pledged during the campaign to stand aside for Anwar once he was pardoned, but is now pushing back the potential timeline by up to two years.
Anwar reiterated that he's in no hurry to become prime minister, as expected by his supporters.
"It's time for me to relax a bit, spend time with the family," he said. "I also need time to reflect a bit, and allow Mahathir to initiate this tough, challenging task of reforming from this obsolete, corrupt system to something that Malaysians can be proud of."
Unity between Anwar and Mahathir is key to the government's ability to execute quickly on campaign promises to review big-ticket infrastructure projects and cut spending after scrapping an unpopular goods and services tax. While economic growth is solid, any cracks in the four-party Pakatan Harapan ruling coalition -- or worse a potential power struggle -- would raise doubts about the ability of the administration to deliver.
The relationship between Anwar and Mahathir has been marked by decades of bitterness and public attacks, stemming from Mahathir's decision during a prior stint in power to sack Anwar as his deputy amid a dispute on how best to respond to the Asian financial crisis.
Anwar had favored austerity measures during the Asian crisis and higher interest rates, in line with the International Monetary Fund's prescription for some neighbors. Anwar opposed the currency peg imposed by Mahathir to stem a plunge in the ringgit.
After he was fired in 1998, Anwar was jailed in the majority Muslim nation for committing sodomy and abusing power, charges he denied. He was convicted in 2014 on a subsequent sodomy charge and jailed in 2015 when his appeal was denied. He needed the royal pardon to bypass a five-year ban on re-entering politics.