Orban's Steps Rattle U.S. Efforts to Thaw Ties, Envoy Says
(Bloomberg) -- Hungarian Prime Minister Viktor Orban's failure to reciprocate U.S. efforts to mend ties between the allies is making a thaw in the relationship "much harder," according to the U.S. ambassador to Budapest.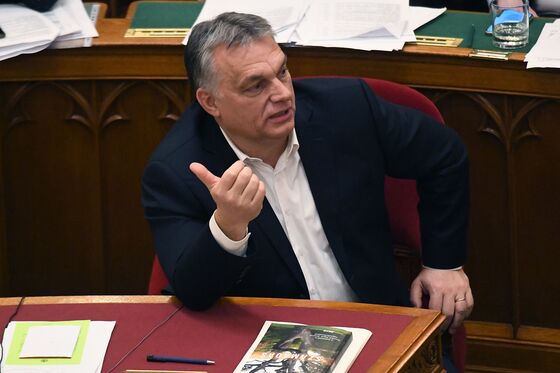 David Cornstein, in prepared remarks to a Hungarian parliamentary committee Thursday, cited Orban's decision to expel Central European University, which offered U.S. degree programs, and the rejection of a request to extradite Russian weapons traffickers to the U.S., sending them to their home country instead.
Cornstein arrived in Hungary this year as U.S. President Donald Trump's envoy, pledging to engage with Orban, whose erosion of democracy led the previous administration in Washington to shun him. Cornstein has since publicly played down criticism of Orban's policies and vowed to pursue a deal-making relationship, partly to counter Russia's increasing sway over the eastern European Union member.
The U.S. envoy called on Hungary to unblock its opposition to Ukraine's NATO engagement over a conflict on minority rights and to pursue energy diversification away from Russia, which he said was trying to undermine NATO unity.