Orban's Propaganda Machine Keeps Hungarian Protests in Check
(Bloomberg) -- When Viktor Orban convened a press conference after a month of protests against his authoritarian rule, he might have been expected to devote time to reasserting control of the political narrative.
The fact the Hungarian prime minister didn't so much as mention the demonstrations in a 16-minute address to kick off the rare event in Budapest on Thursday highlighted the strength of his buffer: one of Europe's most powerful propaganda machines. Orban is able to drown out the rallies that have morphed from demands to scrap an overtime law into calls for the end to his self-declared "illiberal democracy."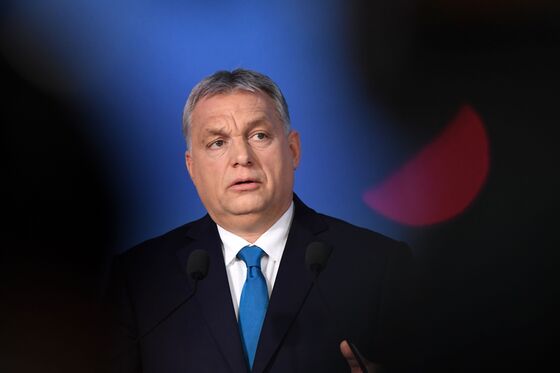 Unions are preparing for nationwide demonstrations on Jan. 19 and even threatening the first general strike since the end of communism. But millions of Hungarians heard about that plan only through the filter of news outlets tied to the premier. They include a public media that election observers last year said helped Orban win a third consecutive term in a vote that was free but not fair. The protests are now testing whether this propaganda apparatus can keep a lid on mounting discontent.
"The role of propaganda is to insulate Orban's supporters from the protests," said Gabor Polyak, head of Mertek, which tracks media developments in Hungary. "It's not about gaining votes, it's about keeping them."
Late last year, entrepreneurs close to the premier simultaneously handed over, free of charge, hundreds of radio stations, television channels, newspapers and websites to a foundation run by pro-Orban trustees. The transactions added to the government-friendly role of state media.
So far, the strategy appears to be working. Polls taken since the outbreak of protests last month -- when Orban helped push through legislation allowing companies to impose a six-day work week -- showed his Fidesz party has largely preserved its approximately 50 percent share among decided voters.
In his freewheeling two-hour briefing in Budapest, the standard-bearer for Europe's nationalist resurgence addressed the issue of the protesters and overtime law when responding to questions. He rejected a repeal of the legislation. He said Hungarians were illiberal at heart and that the rest of the world was changing.
Orban predicted nationalists would first upend the political establishment, possibly putting them in charge of the European Union after continent-wide elections in May, before overturning the liberal media establishment.
"It's the end of an era," Orban said. "There's a change in the balance of power in both politics and media."
Talk of his dominance of the airwaves was overblown, Orban said, pointing to the most-watched commercial television network and the most-read news website and weekly, which he said were all part of the liberal media. Pooling media assets under one foundation didn't boost their influence, he insisted.
That's not how opponents see it. While previously divided opposition parties were galvanized and united by the street rallies, they've had a tough time getting their message out. That's especially the case in smaller towns and villages, which have less media penetration and tend to be a bastion of support for Orban.
This past Saturday, the half-hour evening news on state television led with a report about snowfall in Hungary and neighboring countries. The item on anti-government protests was relegated to the 10th minute, sandwiched between longer pieces hailing the government's anti-immigrant policies.
Similar outlets alternately tried to play down the protests or to magnify them as the work of foot-soldiers of George Soros, the Hungarian-born U.S. billionaire-philanthropist. Nationalists like Orban have for years portrayed the 88-year-old as the head of a global pro-immigration conspiracy, something Soros has denied.
While social media, especially Facebook, have helped fill a void for the opposition, it's hard to reach voters who supported Orban because it takes financial firepower to target people outside an echo chamber, said Akos Hadhazy, an opposition lawmaker who quit Fidesz in 2013 to protest corruption in the ruling party.
"The protests are a big test of how effective propaganda is to keep public opinion from turning," said Peter Kreko, director at Political Capital, a think-tank in Budapest. "When the government cranks up the volume, it's very hard to compete with that."