Orban Risks First General Strike Since Fall of the Iron Curtain
(Bloomberg) -- Bolstered by a wave of nationwide protests, Hungary's labor unions are mulling whether to hold their first general strike since the 1989 fall of the Iron Curtain.
Industrial workers were among the more than 10,000 people braved freezing weather in Budapest over the weekend to demand Prime Minister Viktor Orban's government repeal a new law allowing companies to ask them to work as much as six days a week. Branding the legislation "the slave law," their unions vowed to rally Jan. 19 and are consulting members about a walkout.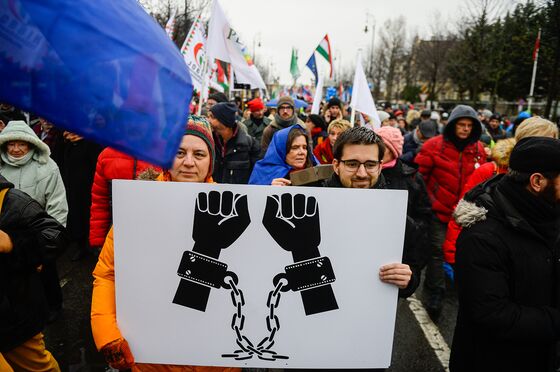 The debate may signal a resurgence for among unions after, like elsewhere in eastern Europe, their influence withered the three decades since communism collapsed. While only one in 10 workers here belongs to a labor organization, the threat of a strike marks a new challenge for Orban. He's politically unassailable after winning a third consecutive constitutional majority in a vote last April, but a strike may dent his efforts to galvanize nationalists across the European Union before elections for its parliament in May.
"This is going to cripple families," Ilona Forgo, head of a union representing electricians, said of the new law. "Unions may be relatively weak, but we're confident we can mobilize the masses against this."
At first glance, it's an odd time for labor unions to protest. Economic growth is at the fastest in 13 years, wages rose by a third in three years and unemployment is at a record low.
But some of the gains have been due to a labor shortage, worsened by the anti-immigrant stance embraced by Orban's government that, along with a clash over the rule of law and democratic backsliding, has put him at odds with the EU.
Orban defended the new law on overtime hours last month by saying Hungary had essentially "run out of workers." Opposition figures say that he is instead kowtowing to carmakers including Daimler AG and Volkswagen AG's Audi, which both employ thousands of people in the former communist country. BMW is also planning a new factory near the eastern city of Debrecen.
The 55-year-old leader has weathered pro-democracy protests since returning to power in 2010, and initial polling data so far suggests this time may be no different. Helped by Hungary's surging economy, his ruling Fidesz party's popularity is about equal to the combined backing for the entire opposition.
But he faces two big tests ahead. Along with other EU members, Hungary holds European Parliament elections in May, followed by municipal elections in the fall.
Opposition parties are hoping to capitalize on anger over Orban's consolidation of power, which includes the creation of one of the most powerful propaganda machines in the EU and a new top court that answers to the government. But potential divisions are emerging: before Saturday's rally, one protest leader urged a boycott of upcoming elections while another said it was time to unite under a single ticket.
"Demonstrations tend to tire as protest leaders can't really say anything new after a while and they can't bring about change," said Endre Sik, head of research at polling company Tarki. "The real question is whether unions can help overcome this and whether the anger can be channeled into elections later this year."