Orban on Path to Ouster From EU Party After 'Impossible' Demands
(Bloomberg) -- The ultimatum that Hungarian Prime Minister Viktor Orban received to avoid expulsion from the European Union's biggest political group is all but certain to go unmet, potentially sharpening battle lines between mainstream forces and nationalists ahead of crucial EU-wide legislative elections.
In a front-page story on Wednesday, pro-Orban newspaper Magyar Nemzet called a trio of demands by a leading EU Christian Democrat "impossible to fulfill." That was seconded by a member of Orban's Fidesz party in the European Parliament, reinforcing the sense that momentum was building toward the ouster of the Hungarian contingent from the political family -- known as the European People's Party.
Manfred Weber, the EPP's candidate to lead the EU executive arm, on Tuesday called on Orban to end an anti-EU campaign, apologize to members of the political group and guarantee the status of the George Soros-founded Central European University. "Fidesz must understand that this campaign has caused considerable political damage," Weber said in a letter to EPP President Joseph Daul.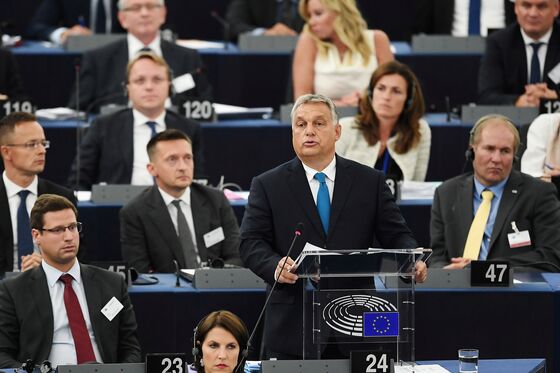 The demand regarding CEU, whose U.S.-accredited programs Orban effectively expelled from Hungary last year, is seen as particularly difficult to square with domestic politics following a 2018 election campaign that skewered Soros, the Hungarian-born liberal donor who has become a bogeyman for nationalist leaders around the world.
"These conditions were concocted so that Fidesz couldn't meet them," Tamas Lanczi, a political analyst at Szazadveg, a think-tank in Budapest that advises the government, said by telephone. "CEU in particular is symbolic -- it's a wall and it can't be surmounted."
Tamas Deutsch, a Fidesz member of the EU Parliament, said his party remains confident that the disagreement can be resolved via dialogue within the EPP. Fidesz has no intention of leaving the group, Deutsch said in an interview on Tuesday with Hungarian broadcaster ATV.
Weber was standing firm on his ultimatum, telling Poland's PAP news agency on Wednesday: "The next days will be the last chance for Fidesz's Viktor Orban to show that he wants to be part of our family."
The stakes are high for Orban, who was re-elected to a third consecutive term last year after an unprecedented power consolidation during which he managed to largely retain the support of the EPP, which includes German Chancellor Angela Merkel's CDU party. That started to change last September, when Weber was among EPP members who backed an EU Parliament decision to recommend a probe of Hungary over the "clear risk" that the rule of law may be undermined in the eastern European nation.
The pressure on Orban is rising amid EU deliberations over the bloc's next seven-year spending plan as of 2021. Hungary has received an average of $4 billion annually from the EU in the current budget cycle. Separately, the EU is considering reducing payouts to member states that are deemed to fall short of rule-of-law standards.
"The row within the EPP comes at a crucial time of EU budget negotiations," Marcin Kujawski, an economist at Nomura International Plc in London, said in an email. "Losing support of the EU's biggest party at this juncture may therefore somewhat weaken Hungary's position in the budget talks."
Critics inside the EPP have argued that the longer Orban stays, the longer he can act as a Trojan horse to undermine the common goal of centrist parties on the right and left, which is to counter resurgent nationalists, such as Italian Deputy Prime Minister Matteo Salvini's League party. Orban himself has publicly said he's campaigning to push the EPP toward the far-right on issues such as immigration.
The issue is coming to a head after Orban plastered Hungary with anti-EU billboards showing Soros and European Commission President Jean-Claude Juncker, a fellow EU Christian Democrat. In the uproar that followed, enough members of the EPP filed petitions to have a vote on Fidesz's ejection or suspension. The EPP is set to address the issue at a meeting in Brussels on March 20.