Orban Told by Germany's Weber to End Anti-EU Campaign, Apologize
(Bloomberg) -- A leading European Union Christian Democrat set out three conditions for Hungarian Prime Minister Viktor Orban to avoid expulsion from the bloc's biggest political alliance over an anti-EU campaign.
Manfred Weber, the EU Christian Democratic candidate to lead the bloc's executive arm, told Orban he must "immediately and definitively" cease the campaign, apologize to other members of the political family -- known as the European People's Party -- and guarantee the status of the George Soros-founded Central European University. Hungary's nationalist leader effectively expelled CEU from Budapest last year.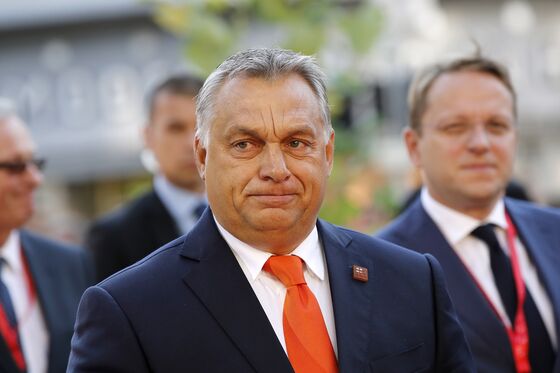 Orban has "an opportunity to move on these three points and demonstrate his esteem for the EPP," Weber, a German member of the group and ally of Chancellor Angela Merkel, said in an interview published on Tuesday in Germany's Bild newspaper. There are "decisive issues of democratic principle and political style," he added.
Weber's demands clarify the stakes for Orban and his Fidesz party in the run-up to an EPP assembly meeting on March 20 in Brussels. The EPP has received requests by 12 member parties from nine countries seeking the expulsion and/or suspension of Fidesz as a result of Orban's erosion of democratic standards, opposition to immigration and criticism of European institutions and personalities.