Orange County Leans Purple in Shift for California Republicans
(Bloomberg) -- The mood was downright sober at Skosh Monahan's, the Costa Mesa, California, pub where Republican Congressman Dana Rohrabacher had hoped to host his victory party.
One of California's last GOP strongholds, Orange County, shows signs of cracking to trends prevalent elsewhere in the state. After Tuesday's election, Democratic candidates are leading or have won in five of the seven congressional districts whose boundaries include all or part of the county.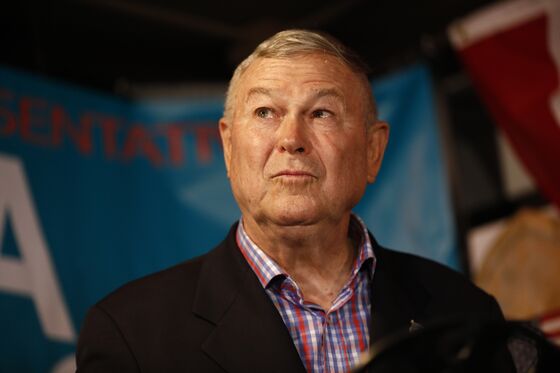 "These were the most competitive congressional elections Orange County has had in generations," said Fred Smoller, an associate professor at Chapman University in Orange, California. "Republicans no longer have a lock on these offices. We are a purple county."
The county of 3.1 million inhabitants just south of Los Angeles has been a bastion of conservatism in a largely liberal state. It has long been said that an "Orange Curtain" separated it from the Democratic stronghold of Los Angeles. But demographic changes and a distaste for the politics of President Donald Trump changed that. The losses there speak to broader problems for the Republican Party in the nation's most-populous state.
Nowhere was the fight as fierce as in the state's 48th congressional district, where political neophyte Harley Rouda, a Democrat, holds a narrow margin over Rohrabacher, a 15-term incumbent. Democratic Party ads pummeled the congressman for voting to repeal the Affordable Care Act, for his long ago support for term limits and for his ties to Russia. One ad pretended to be an endorsement from Russian President Vladimir Putin.
Trump tweeted in support of Rohrabacher Monday: "Dems are desperate to replace Dana by spending vast sums to elect a super liberal who is weak on Crime and bad for our Military & Vets!," the president said.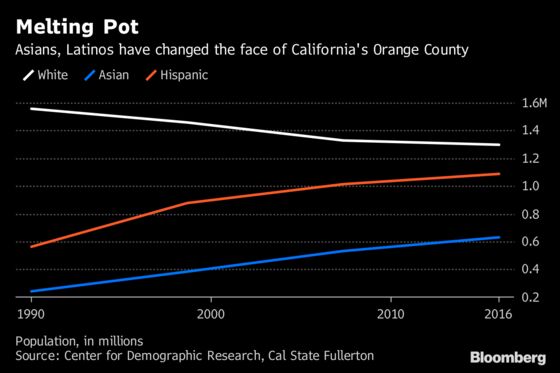 For decades, Orange County was as sure a bet as Republicans could find in the Golden State. President Richard Nixon was born and is buried there. The main airport is named after a staunch Republican, the late actor John Wayne. In recent years, though, the county has been growing more diverse, and rising numbers of Asians and Latinos have shifted established voting patterns. In 2016, Orange County voted for a Democratic presidential candidate, Hillary Clinton, for the first time since the Great Depression.
The shift in Orange County mirrors what's happening in the state overall. About 44 percent of California voters were registered as Democrats going into Tuesday's election. The share of residents who stated no party preference, at 28 percent, was larger than that of Republicans, at 24 percent. In 2000, 35 percent of voters identified as Republicans.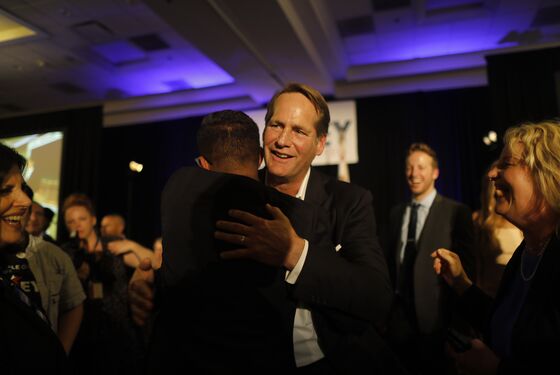 Democrats control both houses in the state capital Sacramento and all statewide offices. Lieutenant Governor Gavin Newsom handily beat businessman John Cox in the governor's race. Because of the state's so-called jungle primary, elevating the top two vote recipients regardless of party, Democratic Senator Dianne Feinstein's opponent in the general election was another Democrat.
Republicans, including Cox, had hoped that a ballot measure that would have repealed a 12-cent-per-gallon gasoline tax would be an issue to fire up conservative voters. But several Democratic candidates said they didn't support the tax, while public opinion for the ballot measure shifted. Californians kept the tax, which funds highways and other transportation projects.
The overall grim results for Republicans in the state signal continuing problems for the GOP, said Joel Fox, a conservative commentator and consultant in Los Angeles. A ballot measure requiring that hens not be kept in cages got 60 percent approval, he notes.
"Farm animals have more room to roam than California Republicans," he said.
California has been a major focus of Democrats nationally looking to flip the House of Representatives. California accounted for five of the top ten most-expensive House races in the country this election cycle, according to OpenSecrets.org. Former New York Mayor Michael Bloomberg, the founder and majority owner of Bloomberg LP, the parent company of Bloomberg News, was among those spending large sums to defeat Rohrabacher and boost Democratic candidates.
In districts with boundaries that include Orange County, Democratic challenger Mike Levin joined Democratic incumbents Linda Sanchez, Lou Correa and Alan Lowenthal in defeating Republican opponents. In two other Orange County districts, Republicans remain in control: Gil Cisneros, a Democratic lottery winner, lost to Republican Young Kim, who will be the first Korean-American woman to serve in Congress, while Republican incumbent Mimi Walters is leading in her effort to defend her seat against Democratic law professor Katie Porter.
Outside a polling station in Huntington Beach, California, voters were also divided.
John Yundt, a 63-year-old salesman, said he voted for Rohrabacher because "he's pro-life, against big government programs and for a secure border." His opponent, Rouda, is "wrong on all three." Hillary Wallace, a 31 year old teacher, said she voted for Rouda because Rohrabacher had been at the job too long. "Things needed to be changed," she said.