Swedish Opposition Leader Loses as Political Landscape Shifts
(Bloomberg) -- Moderate Party leader Ulf Kristersson lost the first round of voting in Sweden's race to become prime minister, throwing the process back to the speaker as old alliances start to crack amid a struggle to find a way forward after September's election.
Key allies abandoned Kristersson in a parliament vote on Wednesday as he tried to form a minority right-wing coalition amid deep discord over whether to seek support from the nationalist Sweden Democrats. The speaker, Andreas Norlen, said after the vote that he will announce the next step on Thursday after meeting party leaders.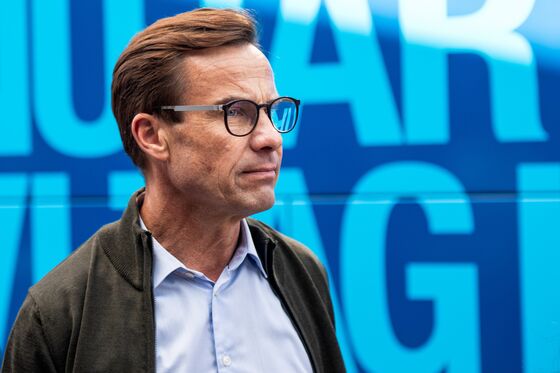 The result marks a historic split in the center-right opposition Alliance that was formed in 2004 to end years Social Democratic dominance. It was expected after Center Party Annie Loof on Tuesday said she couldn't back a government that would need support from a party with neo-Nazi roots. The 35-year-old, who has sat in parliament since 2006, now emerges as a front-runner to get the next nod from the speaker to try to forge a viable coalition.
"It would be unique in Swedish history to give influence to a nationalist and populist party," Loof said in parliament on Wednesday ahead of the vote.
Sweden is deadlocked after a surge by the nationalists in the election two months ago left neither of the two traditional blocs with a majority. A poll released Wednesday showed voters are losing confidence in the leaders of the four opposition parties. Earlier polls have found rising support for the Sweden Democrats, raising the stakes to avoid holding another election.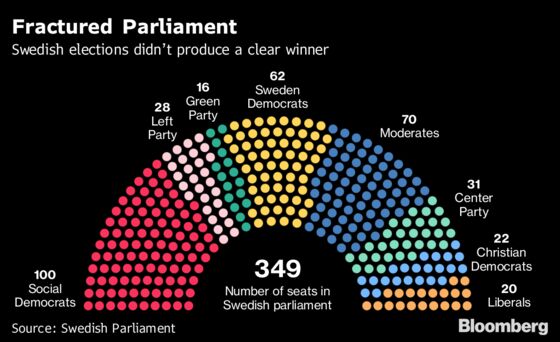 The speaker had asked Kristersson to test a vote despite few signs he would win. He's trying to force a compromise and speed up a process that has dragged on for longer than anytime in Swedish history. This was the first of four votes that need to be held before a snap election can be called.
Loof is calling for a grand coalition, which she may now try to form should she get the job from the speaker. But neither of the the two biggest parties, the Moderates and the Social Democrats, have shown any inclination to join such an endeavor.
Jimmie Akesson, the leader of the nationalists, said on Wednesday that a "new political landscape" was emerging with a Conservative group as the more liberal parties move toward the Social Democrats.
The acting PM, the leader of the Social Democrats Stefan Lofven, said on Tuesday he sees no point in testing his own support again in parliament. He was ousted in a confidence vote after the election and now presides over a caretaker government.
Anders Ygeman, parliamentary leader for the Social Democrats, said on Wednesday while announcing his party's no vote that the groups now need to reach across the bloc lines to find new ways to share power.