Ontario Premier Rips Trudeau Over Virus Testing at Airports
(Bloomberg) -- The top politician in Canada's largest province lashed out at Prime Minister Justin Trudeau for letting international travelers through the country's airports without testing them for the coronavirus.
Ontario Premier Doug Ford, who announced more restrictions Monday to slow the Covid-19 outbreak, said airports have become a "sieve" through which the virus can enter unchecked. He said he's been asking Trudeau's government for "weeks upon weeks" to start testing at Toronto's Pearson International, the country's busiest airport, to no avail.
"Why they're ignoring us on this is beyond me," Ford said at a news conference in Toronto. "If the prime minister doesn't want to do it, I'm going to do it. I'm not going to put the people of Ontario at risk just because the federal government doesn't want to do tests." The premier represents a district in the legislature that is right next to Pearson.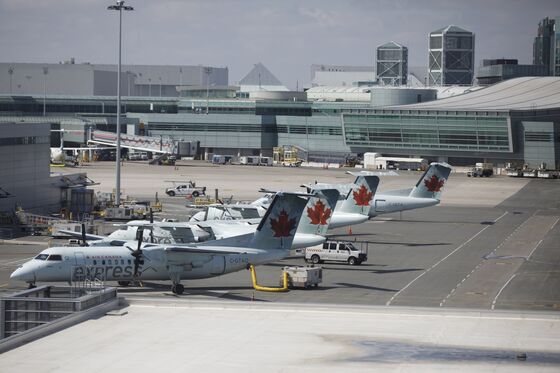 Ontario, like many regions, is dealing with a spike in Covid-19 cases and hospitalizations as the Christmas holiday nears. The province has 265 patients in intensive care units with the virus, a number that has more than doubled over the past four weeks, Ford's government said in a statement.
"I'm surprised by the premier of Ontario's comments. We have been working with his government on his request to conduct a testing pilot project at Pearson International Airport for weeks," Health Minister Patty Hajdu said in an emailed statement. Discussions are still going, she said.
"The strong travel restrictions and border measures in place in Canada since March 2020 are working -- only 1.3% of all known Covid-19 cases in Ontario have originated from travel outside the country," Hajdu said.
Canada has stringent rules that have kept air travel at a fraction of last year's levels and closed the U.S. border to most non-essential road traffic. Anyone entering the country is supposed to quarantine for 14 days after arriving.
The problem, according to Ford, is that some travelers don't abide by it. Without airport testing, the province has no way to track and contain imported cases that undermine efforts to protect hospitals from overflowing, he said.
Airlines have also been pushing Trudeau for testing on arrival in the hope it will help shorten quarantine times and rekindle travel. The federal government is currently cooperating with Alberta on a pilot at the Calgary airport, and some testing on departure experiments have also been announced. Ford, though, said he was in favor of further tightening the border.