Only Eight U.S. States Have Virus Rules for Farms as Cases Rise
(Bloomberg) -- Only eight U.S. states have imposed mandatory protections specifically for farmworkers from coronavirus amid a series of agricultural outbreaks across the country and a national rise in new infections, according to a survey of state regulations by an advocacy group.
A little more than a dozen states have safety recommendations, but they aren't enforceable, while the rest of the country hasn't issued any protocols, according to the Environmental Working Group, which released its findings on Tuesday.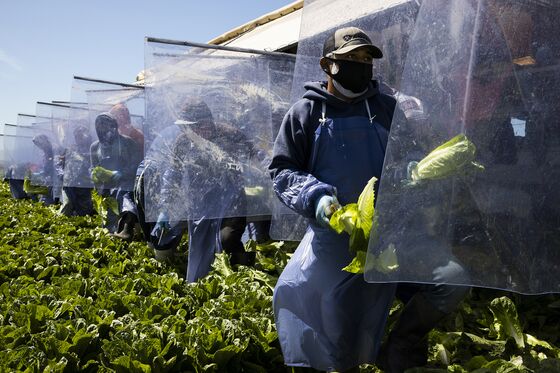 The federal government hasn't created any national Covid-19 safety rules for farms, though the U.S. Centers for Disease Control and the Occupational Safety and Health Administration in June released non-binding guidance recommending steps employers should take.
Meanwhile, farms are turning into virus hot spots, with agricultural areas like Yakima, Washington, posting some of the highest infection rates in the country. The workers are getting sick and spreading the illness as more than half a million seasonal employees crowd onto buses to move among farms across the country and get housed together in cramped, bunkhouse-style dormitories.
Colorado, Michigan, New Mexico, New York, Oregon, Pennsylvania, Washington and Wisconsin are the only states to require produce growers and other farm operations to provide personal protective equipment to farmworkers and to require physical distancing, according to the advocacy group, which favors farmworker protections.
Those states require some additional measures such as workplace disinfection, worker testing or changes to housing and transportation designed to reduce the spread of Covid-19, according to the study. California has some mandatory measures for all workers in the state, including agricultural, but hasn't issued farm-specific guidance, according to the group.
Coronavirus has surged across the country, with the U.S now adding more than 60,000 new cases a day.