Ocasio-Cortez Urges Senate to Reject Emanuel's Nomination
(Bloomberg) -- Representative Alexandria Ocasio-Cortez called on the Senate to reject President Joe Biden's nomination of Rahm Emanuel as U.S. ambassador to Japan, just days after the New York Democrat joined a progressive pressure campaign to preemptively oppose any effort to reappoint Jerome Powell as Federal Reserve chair.
Emanuel previously served as a member the House Democratic leadership team and as President Barack Obama's first chief of staff.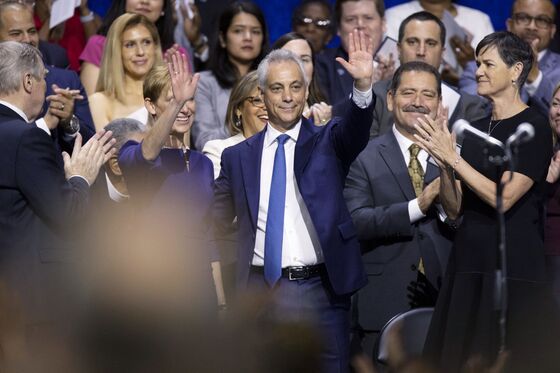 But he's fallen out of favor with progressives amid concerns about his record in the Obama administration, particularly his opposition to a larger stimulus bill in 2009 and what they see as an unwillingness to work with the left. Some groups, including the NAACP, have said that his handling of the police killing of 17-year-old Laquan McDonald in Chicago should disqualify him from the Biden administration.
"This nomination is deeply shameful," Ocasio-Cortez, a progressive leader, said in a statement Wednesday. "As mayor of Chicago, Rahm Emanuel helped cover up the murder of Laquan McDonald - a mere teenager when he was shot 16 times in the back by a Chicago Police Officer. This alone should be flatly disqualifying for any position of public trust, let alone representing the United States as an ambassador."
Ocasio-Cortez and other progressives, including New York Representatives Jamaal Bowman and Mondaire Jones, opposed Emanuel for any nomination amid reports after the 2020 election that Biden was considering him for transportation secretary.
"Rahm Emanuel should not be considered for any position within the Biden administration," Bowman tweeted in November.
The House does not have any official role in confirming administration appointees, but House progressives haven't shied away from trying to steer Biden's picks. On Monday, they urged Biden to nominate a Fed chair with a better record on climate and economic justice than Powell, whose term expires in February.
"That the Biden administration seeks to reward Emanuel with an ambassadorship is an embarrassment and betrayal of the values we seek to uphold both within our nation and around the world," Ocasio-Cortez said in her statement. "I urge the Senate to vote NO on his confirmation."