Trump Campaign Assails Biden Aides in Ad: Campaign Update
(Bloomberg) -- President Donald Trump's campaign ran an ad online assailing aides to Joe Biden for contributing to a group that has helped people jailed during the protests in Minneapolis post bail. The Republican Jewish Coalition plans to spend $10 million to back Trump in battleground states. And Democrats lay out a slate of convention speakers that includes former rivals of Biden and future stars.
The Tax Biden Wants to Double and Trump Might Cut: QuickTake
Trump Campaign Assails Biden Aides for Helping Protesters
Trump's campaign ran an ad online Tuesday featuring the mugshots of Black people and pointing out that Biden staffers donated to a Minnesota group that posted their bail.
The ad says that Biden's staffers contributed to the Minnesota Freedom Fund, a group that says it pays criminal bail and immigration bonds for people who can't afford them. It has provided bail to protesters taken into custody.
Some Biden staffers contributed to the group, though their donations were made individually and weren't connected to the campaign. The donations to the group were made during the height of protests in Minneapolis this summer after George Floyd, a Black man, died while in police custody.
In the campaign ad, a narrator says "More than a dozen of Joe Biden's campaign staffers are donating to a group that's bailing out rioters in Minneapolis." The narrator goes on to list the arrestees' names and their alleged past criminal charges. They're all Black.
The ad harkens back to a incendiary television spot from the 1988 presidential race between George H.W. Bush, a Republican, and Michael Dukakis, a Democrat. In that ad, paid for by Bush supporters and now widely criticized for being racist, it highlights the case of a Black man, named Willie Horton who was serving a life sentence in Massachusetts, when Dukakis was the state's governor, and committed assault and rape while on a weekend furlough.
The Trump and Biden campaigns have attacked one another over which candidate is racist, though polls have shown that a majority of Black voters consider Trump hostile toward African Americans. -- Mario Parker
Jewish Group Spends Big in Key States for Trump (11:02 a.m.)
The Republican Jewish Coalition is spending $10 million in key 2020 states to turn out Jewish voters in November and help re-elect President Donald Trump, the group said in a statement Tuesday.
The RJC, which has over 50,000 members nationwide, said it has developed on-the-ground operations in several battleground states -- including Arizona, Florida, Georgia, Ohio and Pennsylvania -- to support Trump and other Republicans.
During his tenure, Trump has sought to win over Jewish voters and made several policy moves to cast himself as pro-Israel, including moving the U.S. embassy in Tel Aviv to Jerusalem and pulling the U.S. from the Iran nuclear deal. Last November, Secretary of State Michael Pompeo announced that the U.S. would no longer consider Israeli settlements in the West Bank illegal, reversing a 50 year old policy. -- Misyrlena Egkolfopoulou
Stars and Rising Stars Get a Turn on DNC 'Stage' (10:19 a.m.)
A full slate of Democratic stars will take the virtual "stage" at the party's convention next week, from one-time presidential candidates, to beloved former officials to up-and-comers.
The last rival standing against Biden in the primary, Senator Bernie Sanders, is slated to kick off the convention speaking on Monday night along with another former candidate, Senator Amy Klobuchar. Others are peppered throughout the week with Elizabeth Warren on Wednesday and Senator Cory Booker, former mayor Pete Buttigieg and Senator Kamala Harris speaking Thursday -- unless Harris or Warren are named vice presidential nominee, and then they'd speak on Wedneday.
Among other names that have been raised for possible vice presidential picks are also speaking: Senator Catherine Cortez Masto and Michigan Governor Gretchen Whitmer on Monday, New Mexico Governor Michelle Lujan Grisham on Wednesday and Atlanta Mayor Keisha Lance Bottoms, Senators Tammy Baldwin and Tammy Duckworth are all scheduled for Thursday -- unless again, they're Biden's running mate, then it's Wednesday for them.
Former presidents Barack Obama and Bill Clinton will speak, as will several other exes, including former acting U.S. Attorney General Sally Yates and former Secretary of State John Kerry, both on Tuesday. Former Secretary of State and 2016 nominee Hillary Clinton will speak Wednesday.
Legislative leaders will also get a turn, with Senate Minority Leader Chuck Schumer on Tuesday and House Speaker Nancy Pelosi on Wednesday. Progressive favorite Representative Alexandria Ocasio-Cortez will speak Tuesday. Representative Jim Clyburn, who helped turn Biden's fortunes around in the South Carolina primary will speak Monday.
Several leaders with a lower national profile -- which may be boosted by a well-executed convention speech -- include New York Governor Andrew Cuomo, California Governor Gavin Newsom, Representative Bennie Thompson, Representative Gwen Moore, Senator Doug Jones and Wisconsin Governor Tony Evers. -- Emma Kinery
Biden Hits Back on Social Security (9:13 a.m.)
The Biden and Trump campaigns are making familiar arguments over Social Security, a sign that older voters are a key target in November.
On Monday, Biden argued that Trump would "defund Social Security" in his second term and defended his own record.
"Donald Trump said that if he's re-elected, he'll defund Social Security," Biden tweeted. "We can't let that happen."
He was referring to Trump's announcement over the weekend that he would make a temporary payroll tax cut permanent if he's re-elected. Payroll taxes are levied on employers and workers to help pay for Social Security and Medicare.
Biden also tweeted that he has "been fighting to protect and expand the program throughout my career."
The Trump campaign has been running Facebook ads featuring an old clip of Biden talking about a proposal he put forward in 1984 to fight the deficit that would have frozen government spending for a year, including Social Security and Medicare payments.
AOC to Speak at Democratic Convention (6:45 a.m.)
Ocasio-Cortez will speak at the Democratic National Convention, a rare spotlight for a freshman lawmaker.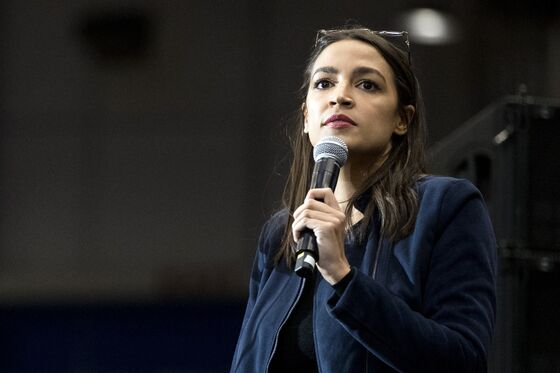 The New York legislator will speak Tuesday at the convention in a moment intended to reach out to progressive voters, the convention program.
Nevada Senator Catherine Cortez Masto and New Mexico Governor Michelle Lujan Grisham, both of whom were under consideration to be Biden's running mate, also are scheduled to speak. Being put on the list of speakers does not preclude them from being chosen to be vice president.
Other convention participants include Vermont Senator Bernie Sanders; Michelle and Barack Obama; former HUD Secretary Julian Castro; Nevada state Senator Yvanna Cancela; Long Beach, California Mayor Robert Garcia; and Texas State Representative Victoria Neave. -- Tyler Pager
Pressure Grows for Biden to Pick Black Woman
More than 100 Black male leaders signed an open letter to Biden calling on him to choose a Black woman as his running mate.
"As someone who has said throughout the campaign that VP Joe Biden needs to choose a Black woman VP, the urgency for that pick has gone from something that SHOULD happen to something that HAS to happen," reads the letter.
It goes on to criticize the treatment that Black women who are being vetted have had in public and argue that Biden has not shown sufficient remorse for his record on mandatory minimum sentencing and other strict crime-related legislation. The letter also says that Black women have not been recognized for the behind-the-scenes work they do for the Democratic Party.
The letter was signed by hip hop mogul Sean "Diddy" Combs; radio host Charlamagne Tha God, who has pressed Biden on the air during the campaign; CNN commentator Van Jones; Georgetown University professor Michael Eric Dyson; and commentator Bakari Sellers, among others.
"Black women are defining the future of politics, so it's time you let one define the future of your campaign," the letter reads.
Trump Wants College Football
Trump is once again using football to score some political points.
With several college football conferences reportedly considering canceling the fall seasons due to the coronavirus, Trump tweeted a 30-second video featuring him shaking hands with players and clips from games, as dramatic, highlight reel-style music plays.
At the end, the ad text reads "We want to play."
"The student-athletes have been working too hard for their season to be canceled," he tweeted earlier, along with "Play College Football!"
Republican Senators Ben Sasse of Nebraska, Marco Rubio of Florida and Kelly Loeffler of Georgia, as well as Ohio Representative Jim Jordan, have also called for college football to go on.
Biden and Kamala Harris will appear together as presidential running mates for the first time on Wednesday at a speech in Wimington, Delaware.