Obscure Debt Trading at 66% Discount Excites Bank of America
(Bloomberg) -- Bank of America Corp. is throwing its weight behind an obscure Ukrainian debt security that doubled in value last year after a similar bold call from JPMorgan Chase & Co.
Warrants issued by the eastern-European nation during a debt restructuring three years ago are trading about 66 percent below their fair value, according to BofA estimates. The valuation is based on bets that the eastern European nation's economy is growing fast enough to trigger payouts from 2021.
Another big-name backer of the securities is Franklin Templeton bond chief Michael Hasenstab, who has been sitting on holdings awaiting payout since he helped broker the debt overhaul.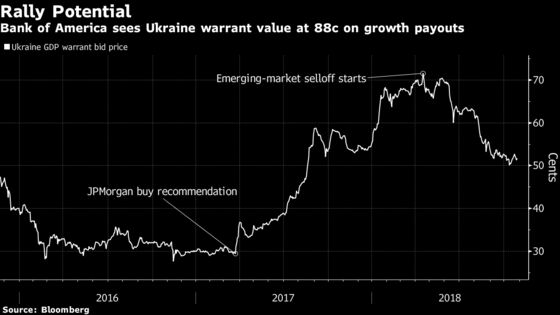 "In 2017-18, gross-domestic product in Ukraine surprised on the upside, making early payments more likely," BofA strategists including Gabriele Foa wrote in a research note. "At the same time, the instrument sold off" due to a deterioration in sentiment toward emerging markets.
The securities are often overlooked by global investors since they aren't included in any indexes. A note from JPMorgan Chase & Co. last year that said the warrants were trading significantly below fair value set off a rush of buying that caused prices to double within four months.
Ukraine doesn't have to make any payouts until at least 2021, and only then if growth climbs above 3 percent and the size of the economy increases to $125.4 billion from $112 billion at the end of last year.
A 6 percent expansion in one year, which Ukraine has notched five times since 2000, could generate a one-time payment worth 40 points or 75 percent of the current market price, the BofA analysts wrote.
That doesn't mean the risks aren't high. Ukraine is still struggling to get its finances in order since the $15 billion debt restructuring as an ongoing conflict with pro-Russian separatists saps resources. Presidential elections in March promise to create more volatility after months of political wrangling delayed a preliminary agreement over a $3.9 billion International Monetary Fund program.
The BofA analysts cautioned that the absence of income for several years makes the securities vulnerable to changes in sentiment. There's also a chance the government may try to buy back some of the securities as the payout date approaches, they said.
"Politics remains the key risk for warrants, as a high fair value is justified by large payments that could weigh on public finances," the analysts said.