Obama Decries Rise of 'Politics of Fear and Resentment'
(Bloomberg) -- Former U.S. President Barack Obama decried mounting global inequality and the emergence of a political order based on fear and resentment, calling for greater efforts to foster international cooperation.
"A politics of fear, and resentment" is building, Obama said in a speech in Johannesburg on Tuesday, a day before the 100th anniversary of Nelson Mandela's birth. "It's on the move at a pace that would have seemed unimaginable just a few years ago."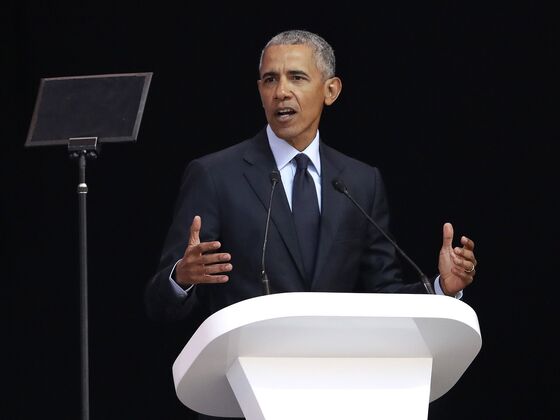 Mandela, who spent 27 years in prison and emerged to become South Africa's first black leader after white minority rule ended, died in December 2013 at the age of 95. Obama praised the global icon's legacy, saying he had shown that people were bound together by a common humanity and that a world governed by democratic principles was possible.
Obama warned that advances made since Mandela was in office were being eroded, with far-right parties emerging in the West that advocate protectionism, closed borders and barely hidden racial nationalism. Many developing countries are seeking to emulate China's model of authoritarian control combined with capitalism, he said.
"Strong-man politics is ascending suddenly whereby elections and some pretense of democracy are maintained, a form of it, but those in power seem to undermine every institution or norm that gives democracy meaning," Obama said. "We now stand at a crossroads, a moment in time in which two very different visions of humanity's future compete for the hearts and minds of citizens around the world."
While there was no guarantee that progressive values would ultimately triumph, there was no place for despondency, Obama said.
"It's tempting right now to give into cynicism to believe that recent shifts in global politics are too powerful to push back," he said. "We have to resist that cynicism."