Higgins Wins Irish Presidential Race, Exit Poll Signals
(Bloomberg) -- Michael D Higgins is set to be re-elected as Ireland's president, exit polls showed, earning a second seven-year term as head of state.
Higgins, 77, received about 58 percent of votes, according to an RTE exit poll published Friday after polls closed, echoing a similar result in a survey for the Irish Times. That put him about 37 percentage points ahead of his nearest rival.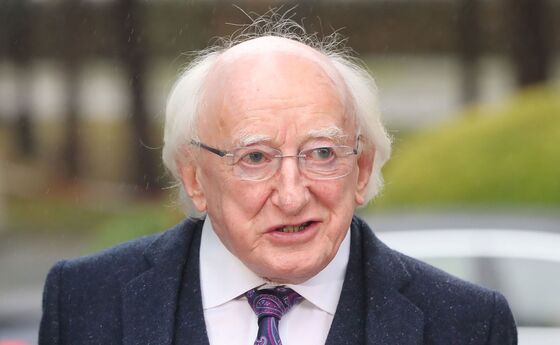 The vote brings to an end a lackluster campaign for the largely ceremonial role. The governing Fine Gael party supported his candidacy, while only one other major party supported an alternative candidate.
The Irish presidency has little real power beyond the ability to dissolve parliament and refer proposed laws to the Supreme Court. Past presidents, even if career politicians, tend to be apolitical once in office. Higgins, a poet and former Labour Party lawmaker, was first elected as president in 2011.
"While the votes still have to be counted, Michael D Higgins's clearly apparent victory in the Presidential election based on the exit poll is entirely merited," said Labour Party Leader Brendan Howlin. "He has been an exemplary President for seven years, and there is no one better to represent the people of Ireland during the next seven."
((An earlier version of the story corrected the spelling of Higgins))