NYC Expands Vaccine Mandates, Drawing Ire From Police Unions
(Bloomberg) -- New York City said it would require all municipal workers to be vaccinated against Covid-19 and eliminate a test-out option in a move that immediately drew ire from a powerful police union that said it would bring legal action against the city.
The city joins Los Angeles, San Francisco and other cities in an expanded mandate that will apply to about 160,500 municipal workers, of which 71% have already received at least one vaccine dose, Mayor Bill de Blasio said during a briefing on Wednesday. Police and firefighters are included in the requirement, while certain Department of Corrections employees will have until Dec. 1 to comply as the city grapples with ongoing staffing issues at Rikers Island.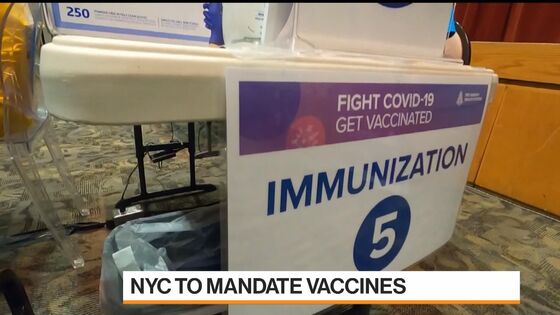 De Blasio said the city will begin bargaining with municipal unions about how to respond to the impact of the mandate and how to get shots to the roughly 46,000 unvaccinated employees. If the workers refuse, they will be placed on unpaid leave, de Blasio said. Employees who get their first shot at a city-run site will receive an extra $500 in their paycheck. The benefit -- which the city expects will cost as much as $23 million -- will end on Oct. 29, the deadline for employees to submit proof of at least one dose.
"We're not firing people on the spot," de Blasio said during a Wednesday briefing. "We said 'please get vaccinated by the deadline. If you do, you continue on your work. If you don't you'll leave without pay," 
Hours after the mandate was announced, the New York City Police Benevolent Association, a union representing 24,000 uniformed cops, pledged to challenge the requirement in court. 
"From the beginning of the de Blasio administration's haphazard vaccine rollout, we have fought to make the vaccine available to every member who chooses it, while also protecting their right to make that personal medical decision in consultation with their own doctor," PBA president Patrick Lynch said in a statement. "Now that the city has moved to unilaterally impose a mandate, we will proceed with legal action to protect our members' rights." 
The police group joined officers in Chicago and around the U.S. that have been protesting vaccine mandates. About a third of Chicago Police Department employees defied an Oct. 15 deadline to report their vaccination status, leading some officers to be placed on "no-pay status."
Among the 55,000 person workforce at the New York Police Department, 71% of both officers and civilian employees were vaccinated as of Tuesday, according to the NYPD. An agency spokesperson declined to break out rates for uniformed cops but said the department continues to make vaccines available and is urging employees to get a shot. 
The city has been among the more aggressive state and local governments in terms of mandates, requiring health workers and teachers to get the shot and requiring vaccines for anyone entering restaurants, sports stadiums and museums. But certain city employees have chafed at requiring the vaccine as a job requirement.
Teachers and other municipal workers around the U.S. have lodged lawsuits against local and state government vaccine requirements to little success. The one exception has been to garner small carve-outs for religious exemptions. In New York City, a group of teachers lost a bid to stop the mandate and thousands of education staff who didn't get vaccinated were put on unpaid leave. The city said 96% of Department of Education workers have been vaccinated and 95% of city hospital staff have been vaccinated. Overall, 65% of city residents are fully vaccinated, above the U.S. average of 57%.
De Blasio said he didn't expect legal fights against the expanded municipal mandate to succeed. 
"We have seen, uniformly, that courts agree and support vaccine mandates by governments," he said. "Every time it came back the same way that mandates were an appropriate way to protect employees and the people they serve."
The mayor said the city's vaccination requirements are necessary for the economic recovery of New York. He said the city will rely on overtime and redeployments to account for temporary staffing shortages among police officers, firefighters and other essential workers. 
"We have set the bar high with a series of mandates, a lot of people said oh they're not going to work, people aren't going to do it, it's not going to work the way you planned it, Guess what? It did work," de Blasio said. "Our kids are in schools, full strength, safe. Our restaurants, indoor entertainment are open and thriving. Jobs are coming back, people safe. Broadway is back. So much of the life of the city is back because of vaccinations."