Adams Says He Already Met NYPD Unions After Primary Win
(Bloomberg) -- Eric Adams, New York City's Democratic nominee for mayor, said he has already met with police union heads to reset the relationship between the mayor and the force amid a spike in violence.
"It's about going behind closed doors, and say, 'Let's turn a new page,'" Adams, 60, said in an interview Thursday on Bloomberg Television. "They are eager to sit down with me and say, 'How do we move policing into the 21st century?'"
Adams was declared winner of the ranked-choice primary Tuesday, two weeks after a contentious election with a dozen candidates vying for the spot. He will face Republican Curtis Sliwa in the November general election. But since the city's Democrats outnumber Republicans 7-to-1, Adams is likely to become New York's next leader after Mayor Bill de Blasio's term ends this year.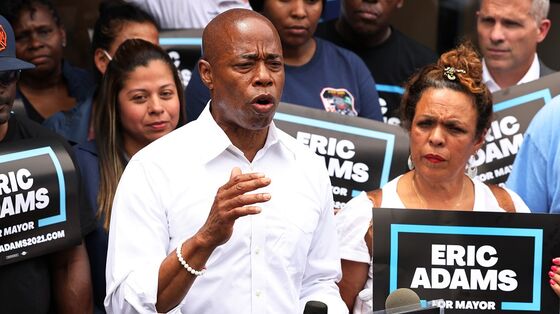 Adams, a 22-year veteran of the New York Police Department, waged a campaign focused on reducing crime and restoring the quality of life in a city still reeling from the economic impact of the coronavirus pandemic. The city's unemployment rate stood at 10.9% in May, compared with 5.8% nationally.
Along with the troubled economy came an outbreak of violence. Shootings this year are up 38% from a year ago, and hate crimes are up 129%, according to the NYPD.
Adams turned the race into a referendum on public safety, following nationwide Black Lives Matter protests that spurred calls to defund the police. He has promised to mend relationships with the department's powerful unions, and has said he will appoint a woman as chief. On Thursday, he declined to say whether he was considering candidates within the department or outside.
"Our cities will be controlled by the good guys and the bad guys, and right now, all across America, the bad guys are winning, and I am going to stop that immediately," Adams said.
Adams and Sliwa, who made his name running a red beret-sporting cadre of citizen crime-fighters, have turned the election into a contest about who is most able to confront increasing shootings.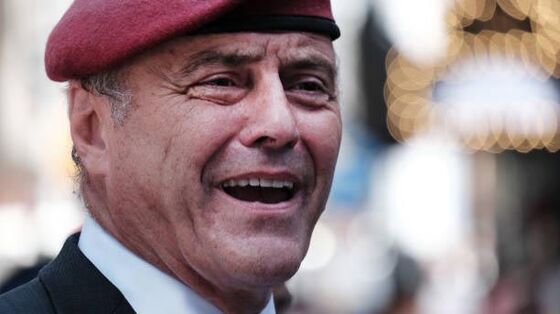 "I have been consistent over 42 years" Sliwa, 67, said in interview Thursday on Bloomberg's "Balance of Power With David Westin." He cited his time leading the Guardian Angels, which became a symbol of New York's former dysfunction.
Sliwa would like to ensure the police have ample funding, hire more offices, and create a property tax to fund the training of 3,000 rookies. Sliwa also said that excessive police violence is unacceptable.
As an example, he pointed to one of the most high-profile misconduct cases in New York history, the death of Eric Garner. Garner was killed by former police officer Daniel Pantaleo, who placed Garner in a chokehold on Staten Island while arresting him on suspicion of selling loose cigarettes.
"Officer Pantaleo did choke him out. It was a hold that should not be legal," Sliwa said.
For his part, Adams plans to bring back a modified version of stop-and-frisk tactics that have been criticized for victimizing young minority men. Adams said officers will be held accountable for ignoring the rules, and said he would restore a plainclothes police unit to confiscate illegal weapons. That unit was disbanded after complaints of excessive force.