Eric Adams Poised to Become NYC Mayor in Pandemic-Ravaged Election
(Bloomberg) -- New Yorkers cast their ballots for mayor on Tuesday, pinning their hopes on a new leader to revive the nation's financial capital as it wrestles with a pandemic-induced economic crisis.
Among voters' chief concerns is crime, which propelled Democratic nominee Eric Adams to win a crowded June primary election and sets him up for an all-but-certain victory against Republican Curtis Sliwa, who trailed Adams by 40 points in a recent Emerson College poll. After crime, New Yorkers said their top concerns included homelessness, jobs and Covid.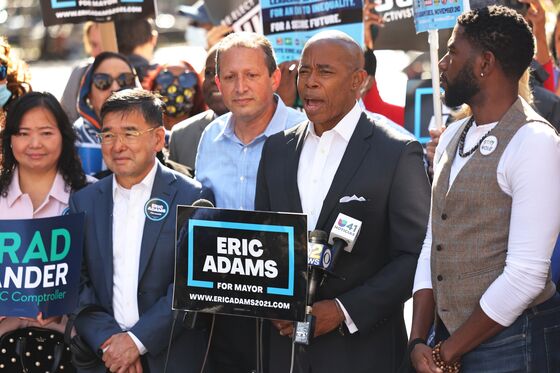 "It's time for us to lift this city up and turn the corner," Adams said at a Monday night rally.  
Adams has cast himself as the "the face of the new Democratic party," which is undergoing an identity crisis in a post-Donald Trump world. Progressives and moderates are wrangling over how to use their narrowest of governing majorities in Congress before they face a referendum in next year's midterm elections.
The party's direction will be tested Tuesday in Virginia, where former Democratic governor Terry McAuliffe finds himself in a closer-than-expected race with Republican Glenn Youngkin, former Carlyle Group co-CEO, and in New Jersey, where Democrat incumbent Phil Murphy's lead has been challenged by Republican Jack Ciattarelli.
At least for Adams, his win is all but assured in a city where Democrats outnumber Republicans by roughly 7-to-1. Still, the Brooklyn borough president and his supporters weren't taking any chances. The election against Sliwa, a radio host and the founder of the Guardian Angels anti-crime patrol, is theirs to lose and supporters were knocking on doors, making phone calls and handing out fliers through the eve of the election, said Freddi Goldstein, a spokesperson for DC 37, the city's largest municipal worker union. 
"We believe it's critical to not take our foot off the gas," Goldstein said. "Complacency loses elections and we cannot afford to lose."
Adams, who raised $19.5 million in campaign contributions, still has a $4.2 million war chest. That doesn't include donations from independent groups including Strong Leadership NYC, which raised $6.9 million from billionaires like Paul Tudor Jones and Mets owner Steve Cohen.
Only 169,879 New Yorkers cast their ballots in early voting, out of more than 4.9 million active registered voters, according to the city's Board of Elections. More people will come out on Election Day, but the number may not approach the more than 1 million ballots cast in the June primary, which was seen as the deciding contest in the overwhelmingly Democratic city.
Adams and Sliwa clashed over their visions for New York City in two debates last month and in the final days of the race. Both pledged to reduce crime, with Sliwa focused on hiring more police and corrections officers and Adams promising to revamp policing. Adams said he would continue vaccine mandates for public employees, while Sliwa said the city couldn't afford to spare workers over the requirement. Adams said he supports congestion pricing, a measure Sliwa has criticized.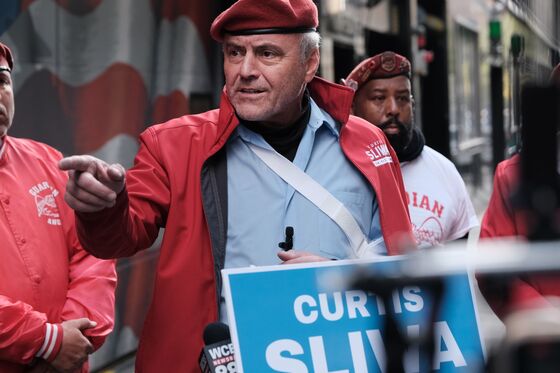 Despite the low turnout, it's one of the highest-stake elections in recent memory. Whoever wins will have to reckon with the city as it pushes through one of its toughest moments: The pandemic has killed more than 34,000 New Yorkers and pushed the city's unemployment rate to one of the highest in the U.S.
"New York City, as well as other places in the country, is coming out of the worst of the pandemic," said former City Council speaker and one-time mayoral candidate Christine Quinn. The mayor "has the biggest bully pulpit in the country."
Former Mayor Michael Bloomberg, founder and majority owner of Bloomberg News parent Bloomberg LP, has endorsed Adams. 
New Yorkers will also vote for the city's next comptroller, public advocate and City Council, where nearly two-thirds of seats are expected to turn over.
Democratic nominee Brad Lander, a Brooklyn Council member, is poised to win the comptroller race and has vowed to better track how the city spends over $15 billion in federal pandemic relief. Jumaane Williams, the Democratic incumbent, is favored to win the public advocate race, although he's filed to run for New York governor against Governor Kathy Hochul and Attorney General Letitia James.
Adams, quick to position himself as mayor-in-waiting, has aligned himself with Lander and Williams, rallying with the two progressives in the last days of the race.
"People still want to give the appearance that there's this huge divide," Adams said. "There's no divide."