NYC Public Advocate Endorses Wiley in Final Weeks of Mayor Race
(Bloomberg) -- New York City mayoral hopeful Maya Wiley picked up one of the last coveted endorsements ahead of the June 22 Democratic primary. Public Advocate Jumaane Williams said he would back the civil rights lawyer at an event Wednesday near City Hall.
"New Yorkers who believe that our city can and should be a progressive beacon should vote or rank Maya Wiley," he said at the event, held at the African Burial Ground National Monument in downtown Manhattan.
Williams said he had been hesitant to make an endorsement because of his position as public advocate but pledged to hold Wiley accountable for her promises. "I'm ready to hold her administration accountable for the city of New York," he said.
He also said he would rank four other preferences and he urged all voters to do the same. This is New York City's first mayoral election using ranked-choice voting, which allows voters to rank their top five choices.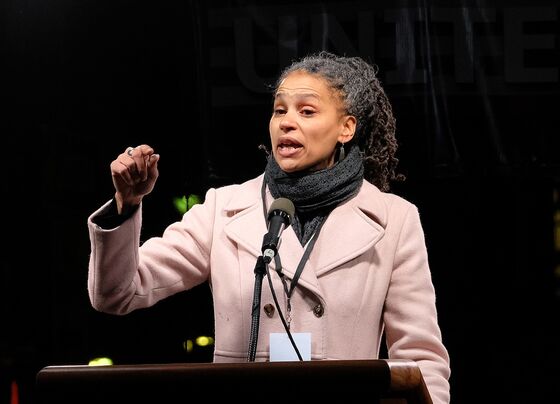 Wiley, 57, has secured some of the top political endorsements on the national stage with a recent slate of high-profile endorsements from progressive politicians including New York Democratic Representatives Alexandria Ocasio-Cortez and Jamaal Bowman and Senator Elizabeth Warren. Bowman had initially endorsed Stringer but pulled his support following accusations of sexual harassment against the city Comptroller, claims Stringer has denied. Progressive groups that once backed former nonprofit executive Dianne Morales also shifted their support after key staffers left over labor disputes, including the New York Progressive Action Network.
The endorsements come as Wiley tries to zip up the vote from the progressive wing of New York City, which hadn't coalesced around a candidate. Ocasio-Cortez, who represents parts of the Bronx and Queens, and Warren both have strong national names, but Williams offers Wiley a stronger local and community backing among New York City's progressive electorate in the crucial weeks before the primary. Leading contenders Brooklyn Borough President Eric Adams, former presidential candidate Andrew Yang and former city Sanitation Commissioner Kathryn Garcia are all considered more moderate candidates.
Wiley came in fifth in the latest NY1/Ipsos poll with 9% of respondents ranking her first in the May 17-31 survey. Adams led the poll with 22%, followed by Yang with 16%, Garcia with 15% and Stringer with 10%. Early voting starts on Saturday.