NYC Mayoral Hopeful Eric Adams Urges Revival of Scorned Anti-Gun Unit
(Bloomberg) -- Mayoral hopeful Eric Adams said the city has to re-institute a controversial anti-gun unit that was disbanded after complaints and instances of force piled up.
"We must go after the gangs and over-proliferation of guns in city," said Adams in an interview with Bloomberg Television. "If we don't we are not going to have the economic recovery, tourism, business travelers or have our offices back and running."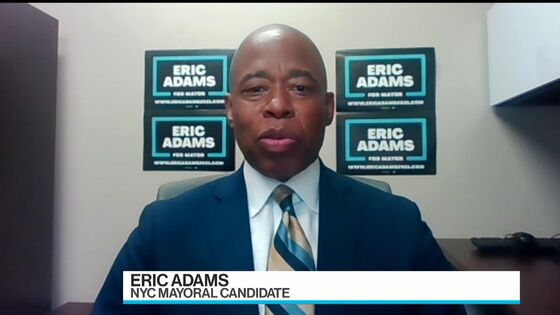 After initially making his mark as a police reformer, Adams, 60, is campaigning ahead of the June 22 Democratic primary on a violence crackdown against the orthodoxy of Democratic Party and criminologists who have been trying for decades to address the overall causes of violence, rather than just adding more police officers. Voters will be asked to rank their top five candidates.
In a poll released late Monday by Emerson College and Pix11, Adams came in first place with 18% among 631 people polled from May 13-15, with former presidential contender Andrew Yang at 15% and city Comptroller Scott Stringer third with 15%, ahead of nonprofit executive Dianne Morales, Maya Wiley, a civil rights lawyer, Shaun Donovan, former city housing commissioner, and former Citigroup banker Ray McGuire.
According to the city Campaign Finance Board, as of the most recent March 15 report, Adams had $7.9 million in his campaign treasury, more than any candidate, topping Stringer, who had $7.5 million.
Adams refuted claims in the New York Times that he took contributions from donors that later did business with the city in deals he had influence on as Brooklyn Borough President.
"We are in clear compliance with all the rules," Adams said. "We haven't received any type of infractions. I'm not impacted by money and politics."