NYC Mayor to Consider 'Temporary' Remote Option for Schools
(Bloomberg) -- New York City Mayor Eric Adams said he is considering a temporary remote option for the city's public schools, in a stark reversal of his position to keep kids learning in person despite a surge in Covid cases.
"The safest place is in school and I'm going to continue to push that," Adams said during a press briefing on Thursday. "But we have to be honest. A substantial number of children's parents aren't bringing them to school. I have to make sure children are educated."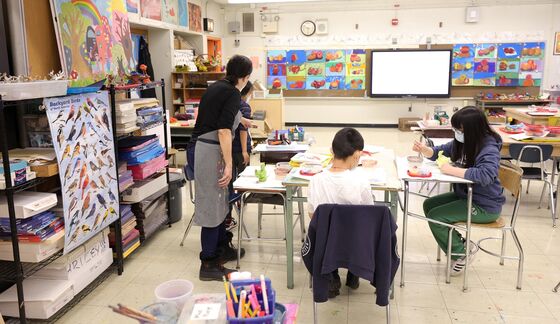 Only about 70% of the city's 1 million students have been attending classes since schools reopened after the winter break on Jan. 3. On Wednesday, attendance was about 76% and schools reported over 6,500 cases among students and 1,000 among staff, according to city data.
While there are signs New York City is approaching a peak in the most recent Covid surge, cases remain elevated: 29% of people tested were positive on Jan. 10. That's left nearly a third of students in the U.S.'s largest public-school system without any instruction, since remote classes have not been an option since the school year began last September.
Adams and schools chancellor David Banks have pushed for schools to remain open since they took office on Jan. 1. Standing outside a Bronx school as students streamed back from winter break last week, he espoused the merits of in-person learning and urged New Yorkers to stop wallowing in Covid and to show "swagger."
Since then, city officials have cited the benefits to in-person instruction for high-need students, as well as reliable food and shelter for low-income families. But if students aren't showing up to school, than it's harder for them to access those services.
Parents, teachers and students have complained about the lack of sufficient testing, building ventilation, and the increase in pediatric Covid cases. The issues sparked a walkout earlier this week by Brooklyn Technical High School students Tuesday, one of the city's largest and most prestigious public schools. Chancellor Banks vowed to meet with the students to hear their concerns.
The city's schools, like much of the public-sector workforce in New York, have also faced worker shortages. Without teachers, some schools have resorted to corralling students in auditoriums for study periods instead of classroom instruction.
Adams on Thursday said he still wanted to keep schools open but would put in place a temporary remote option "if we are able to." Among the issues to tackle include how a reduced number of teachers would be able to handle the added tasks of hybrid schooling.
Adams's decision to entertain a temporary remote option comes as school tensions rise across the country. Disruptions due to Covid-19 peaked during the first week of January, and a labor dispute in Chicago led to school closures for five days. Across the U.S., parents, teachers and students are asking for remote options as surging infections contribute to staff shortages and in some cases force schools to close. Clark County School District in Nevada implemented a five-day pause starting Friday due to "extreme staffing shortages."
The issue has drawn the attention of the Biden administration, which has pushed to keep schools open as a way to prop up the economy. "The president's been very clear, as we have been clear: We are on the side of schools being open," said White House Press Secretary Jen Psaki earlier this week.
Proponents of a remote option said they welcomed the move, but wish it would have come sooner.
"This is what parents have been asking for because we understood that, especially with this variant, and the sheer number of cases, that it was necessary," said Tom Sheppard, a representative on the city's Panel for Educational Policy, a city policy advisory body.
Sheppard, who has three children attending Bronx schools, said all three missed the first week of school after they tested positive for Covid over the winter break. Had there been a virtual option, they would've been back in class sooner, he said.
United Federation of Teachers President Michael Mulgrew said the union has "long called for an instructionally sound remote option and have been speaking directly to the Mayor about creating one, a program that will work for students." 
Now, Adams said he is "willing to sit down with the UFT to entertain that option."