Adams Edges Democratic Rivals for NYC Mayor After Absentee Count
(Bloomberg) -- Brooklyn Borough President Eric Adams held off a crowded field of would-be New York City mayors Tuesday, as newly counted absentee ballots confirmed his Democratic nomination to lead the nation's largest city.
Adams received 50.5% of the vote after eight rounds of ranked-choice runoffs, and former city Sanitation Commissioner Kathryn Garcia got 49.5%. It was a difference of 8,426 votes.
The 118,000 or so additional absentee votes counted Tuesday were enough to allow the Associated Press to call the race for Adams two weeks after the June 22 primary election. No candidate had won an majority on Election Day and the use of a new ranked-choice voting system, which allows voters to rank up to five candidates, decided the winner.
The results are unofficial and election officials have said the board may not certify results before next week.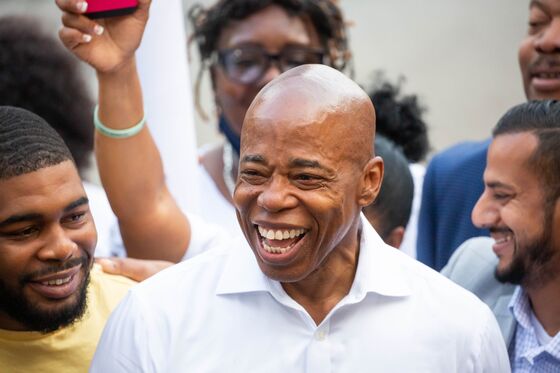 Given that Democrats outnumber Republicans by 7-to-1 in New York City, the winner of the Democratic primary is likely to win the general election in November against Republican nominee Curtis Sliwa.
In the initial voting results released on Election Day, Adams led the race with about 31% of first-choice votes. He was followed by civil rights lawyer Maya Wiley, with 22% of first-choice votes, and Garcia, with about 19.5%.
Adams saw his lead narrow last week after the Board of Elections announced the results of nine rounds of ranked-choice voting.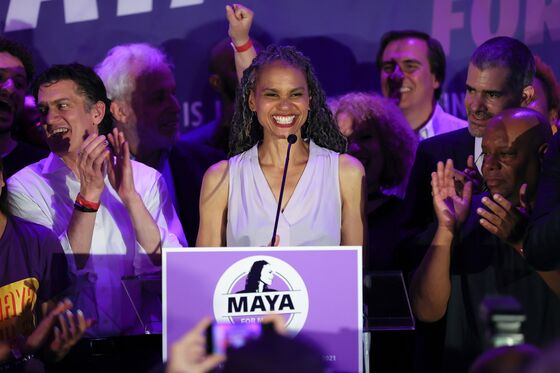 Under the new system, voters can rank their top five preferences, with the board eliminating the last-place candidate and transferring those votes round-by-round until two candidates remain. That tally showed Adams with 51.1% over Garcia's 48.9%, with Wiley eliminated in the last round of counting after voters' second, third, fourth and fifth votes were factored in.
That count, however, didn't include as many as 125,794 absentee votes, which represented around 14% of Democratic primary ballots.
Adams's path to the top spot remained largely the same, however, after absentee ballots were factored in. Adams got 30.8% of voters' top choices, with Wiley garnering 21.3% of first-choice votes and Garcia snagging 19.6% of first-choice votes. Garcia only overtook Wiley after Andrew Yang was eliminated in the seventh round by around 350 votes. When Wiley was eliminated, 72% of her votes went to Garcia -- but that wasn't enough to overtake Adams's early lead.
In the Democratic primary contest for city comptroller, City Councilman Brad Lander leads City Council Speaker Corey Johnson, 51.9% to 48.1%, after a ranked-choice tally of absentee ballots.
Adams built a diverse coalition across the city that came together to support a law-and-order candidate who made reducing crime central to his campaign.
"Our members voted and worked to get out the vote for Adams because they know him -- he has stood with them in contract fights, in the fights for fair pay and benefits for airport workers, fast food workers, and security officers," said 32BJ union president Kyle Bragg on Tuesday after the absentee results trickled in. "They know he will stand with us for a worker-led recovery for our city, and to keep all New Yorkers safe while ensuring real police accountability."
Adams, who survived a police beating as a teen arrested for criminal trespassing, has opposed calls to cut police funding. The former New York Police Department captain has advocated for the return of some form of stop-and-frisk and a plainclothes anti-crime task force, both of which were accused of disproportionately targeting men of color.
Garcia was seen as a competent manager with city experience and did well among voters eager to see a non-ideological candidate elected mayor of the U.S.'s most populous city, while Wiley received national support from progressive figures eager for a win at the ballot box. Wiley or Garcia would be the city's first female mayor.
In the final days of the campaign, Garcia teamed up with rival Andrew Yang to campaign jointly and benefited from the former presidential candidate's second-choice endorsement. Yang, who conceded on election night, urged supporters to list Garcia as a second choice on their ballots, which appeared to help boost support for her.
The count was also thrown into disarray in recent days after election officials erroneously tabulated 135,000 test ballots from Queens, skewing the results and creating confusion. Once the faulty results were corrected, Adams's lead narrowed to just over 14,000 votes ahead of Garcia.
Following the error, Adams, Wiley and Garcia filed petitions to request court oversight of the count and preserve their rights to challenge the outcome. Election officials apologized on Tuesday for their blunder and said they implemented an additional layer of manual review and quality control to prevent further issues.
"The reporting error was unacceptable," said Dawn Sandow, Deputy Executive Director for the Board of Elections, at a Tuesday meeting. "What we can say with certainty is this issue caused no votes to be lost, no voter disenfranchised and no incorrect results to be certified."